How to Maximize Your Time With Your Personal Trainer
How to Maximize Your Personal Trainer Investment
You bit the bullet and shelled out hundreds of dollars for sessions with a personal trainer. Getting a trainer to help you reach your goals can be a sound investment — you'll learn new workouts and new limits, and if you're new to the gym, it's the perfect way to feel more comfortable on the floor. But while training sessions may be helpful, there's a right way to make sure you're maximizing your investment. Here are some ways to ensure you aren't wasting your time and money when you hire a personal trainer.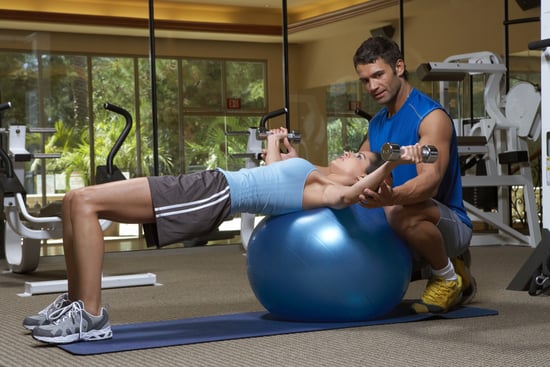 Make sure she's right for you: She may be too lax, chitchat too much, or push way more than you know your body can handle — don't be shy when it comes to letting your trainer know if things aren't working out. After all, you're paying her for results, not to be friends! If your trainer still doesn't change it up, it may be time to switch her for someone else (read our advice for how to break up with a personal trainer here).
More maximizing tips after the break.
Supplement your sessions: Unless you're a celebrity (or just paid like one), chances are you aren't seeing your trainer every day. So if you aren't hitting the gym on your own time, now's the time to start. Experts recommend that you get at least 50 minutes of exercise five days a week if you want to lose weight. And many people focus on strength training when they see their trainer, so don't forget to supplement your training sessions with heart-pumping cardio sessions — it's an important aspect of any routine, especially if you want to lose weight.
Ask a lot of questions: Your trainer is a wealth of body-specific knowledge, so take advantage of all that one-on-one time by making sure you understand why your trainer's got you doing certain moves as well as her advice on the whens, whys, and hows of a routine. Having her explain them to you will help you remember the moves long after your sessions end, and will help ensure that you stay injury-free by doing the exercises correctly on your own.