How to Measure Weight Loss Without Using a Scale
Scale Back: 3 Better Ways to Measure Your Weight Loss
Using the scale has its place, especially if you are carefully tracking your weight-loss progress. But spending too much time focusing on a number can discourage you. Oftentimes when you think you've dropped weight after a rigorous diet and exercise plan, you discover that you haven't lost as much as you thought you have (which can happen for several reasons, usually because you are gaining muscle instead). If you dread stepping on the scale, then here are three ways to gauge your weight instead.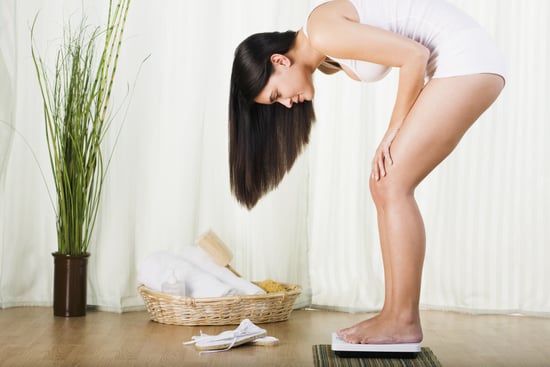 Your clothes: One of the best ways to figure out if your diet and exercise plan is working? Nix the scale for your favorite pair of jeans. The fit of your favorite clothes can be more accurate than knowing how many pounds you carry.
Your energy level: Chances are, if you're eating healthy, drinking water, and exercising, you'll be feeling the effects — you'll have more energy, sleep better, and be less lethargic overall. Feeling healthy is the first step in looking your best, so don't discount the inside-out effects of your new lifestyle, even if weight loss is your main goal.
Your body-fat percentage: Your body's muscle-fat ratio can make the scale tip up even when you are feeling svelte, so be sure to keep your fat percentage in mind when it's time to step on the scale. That means investing in a model that includes an accurate fat percentage measurement so you can track your progress accurately, or getting your body fat percentage measured professionally with one of these tests. And don't always rely on your body mass index (BMI) to gauge whether or not you're in a healthy weight range; it's not always the most accurate measurement. Read more about the difference between BMI and body fat percentage here.
If weighing yourself regularly is part of your carefully calibrated weight-loss plan, then here are tips on how to make sure your weigh-in is accurate.