How Model Brooklyn Decker Got In Shape For the Sports Illustrated Swimsuit Cover
Get the Bod: Brooklyn Decker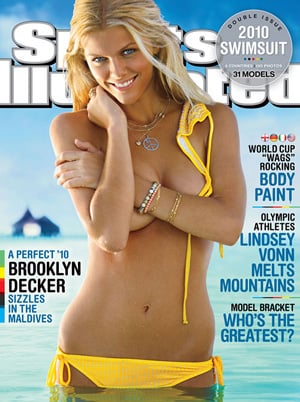 If you don't know who Brooklyn Decker is, you will soon. Brooklyn landed the coveted Sports Illustrated swimsuit cover this year — she's also married to tennis hottie Andy Roddick. The pics of the 22-year-old fashion model are downright smokin', but looking that good takes some work for the 5-foot-9 svelte beauty, as she shared recently with Us Magazine: "I would be lying if I said genes didn't have a large part to do with my size and shape, but I have to really work at it."
To stay in shape, Brooklyn defers to one of the 25-minute workouts she learned while filming the Elle Make Better fitness DVD collection. The collection contains three separate workouts — high-intensity cardio, yoga, and body sculpting — that feature Brooklyn alongside celebrity trainers. Brooklyn does at least one of the fitness routines three times a week — I'm thinking a 25-minute session is pretty manageable for even the busiest gals out there! As for which workout she loves best, Brooklyn says it has to be yoga.
To find out the details of Brooklyn's workout and see her swimsuit pics, read more.
"Yoga's probably the thing I held onto most because I noticed it really enhanced my other workouts because I work out like an athlete. I go for long runs or spin classes and I do weights, which I think a lot of women are scared of. I think it's so important to do weights, because they don't make you bigger, they make you more lean and toned and all that good stuff."
I love that even if she's too busy for a full workout, Brooklyn says she will take five minutes of her day to just get some squats in. It's a good reminder that every little bit counts and that a few sets of squats are better than no squats at all!
When it comes to chow time, she's definitely keeping it healthy. Instead of a diet that focuses on what she can't have, Brooklyn told MindBodyGreen that she makes a point to eat good tasting foods that are also nutrient rich for her like yogurt, berries, and nuts.
"Nutrition is an amazing thing, and to learn about foods that not only taste good and are full of nutrients for your body, but that also directly affect things like the clarity of your skin, or the texture of your hair- that is something that all women need to know about!"
For breakfast she might have an egg white omelet and dinner might be a big salad with tuna. A regular afternoon snack for Brooklyn is fresh veggies with hummus, which is one of my favorite things to make in the kitchen.