How to Motivate to Exercise During the Winter
You Asked: Cold Weather Makes Me Not Want to Exercise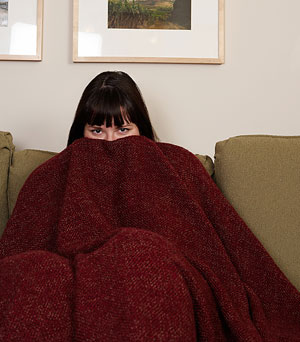 Dear Fit,
I used to run, hike, and bike outside when the weather was nice, but ever since frigid cold temps and snow blew in, I'm totally unmotivated to exercise. I hate to admit it, but I've taken about two months off. I don't want to pay for a gym membership because I know I'd never use it. Any suggestions to get me back on track? I don't want another two months to go by.
— Snuggled Up on the Couch
I'm sure many FitSugar readers can relate to losing exercise motivation in the Winter months. I have some suggestions to help you get into working out again so
.
The best way to kick-start yourself back into an active lifestyle is to make the decision to start now. Since you may not be able to do the same activities you enjoyed in the warmer months, find a way to embrace Winter so you can continue sweating it out in the great outdoors. If there's snow where you live, rent or buy a pair of snowshoes and you can walk anywhere — in the woods or even on snowy sidewalks. The snow adds resistance, so it's a great workout for your legs and core muscles, as well as your heart. Or if you want to work your upper body at the same time, give cross-country skiing a try. Find a golf course, a bike path, or a resort devoted to flat trails. If moving fast is more your speed, go skiing or snowboarding. All these Winter sports are major calorie burners. If you don't want to deal with equipment, then bundle up and go running in the cold — it's sure to warm you up.
Don't want to exercise outside? Get a bike trainer or roller for your bike, since you love to ride in the Summer. It allows you to cycle indoors on your regular comfy bike. I also use more fitness DVDs in the Winter when I don't feel like leaving my house. With so many to choose from, you can do just about any kind of workout in the privacy of your home. Also, you can always set up a home gym complete with a treadmill (or jump rope if you don't have the dough), dumbbells, resistance bands, and an exercise ball, and follow these circuit workouts.
Another idea is to work out at another place besides the gym. Indoor climbing gyms and yoga studios are great because you can pay as you go, instead of forking over a monthly or annual fee. Or you may be to pay a smaller fee just to use certain areas of a gym, such as the group class studio or indoor pool. Whatever you decide to do, try making a fitness date with a friend and you're sure to stick to it.
These are just a few ideas. If fellow readers have other suggestions, please share them in the comment section below.