How to Motivate to Work Out at Lunch
How to Motivate For a Lunchtime Workout
Getting your daily workout over and done with involves a lot of schedule coordination. That's not all it takes, however; if the only time you have to exercise is during lunch, you've also got to motivate yourself to leave your desk and make your way to the gym. Don't skip your lunch workout by motivating with these tips.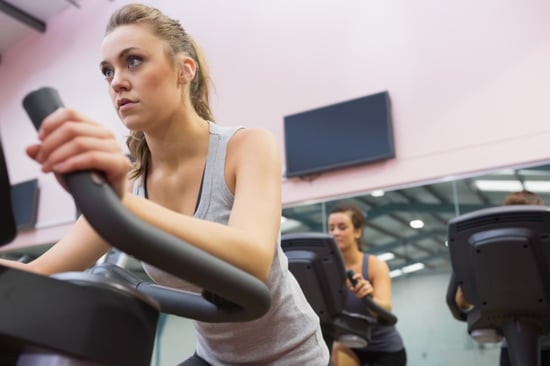 Snack timing: It's a catch-22; you need to spend your midday break at the gym, but you're starving by the time the clock strikes noon — making a salad bar run all the more tempting than a treadmill run. Unfortunately, wolfing down a huge meal before the gym isn't the best option if you've got 45 minutes of heart-pounding fitness to slog through. Instead, time your midday snack so you've got enough fuel for your workout without feeling weighed down. Check out our pre-workout snack ideas to eat one to two hours before your workout, like cereal with skim milk or trail mix and a latte, so you can have enough energy for the gym. And while you're at it, make sure to bring your lunch so you don't have to worry about working out and finding food during your limited time off.
Choose your workout: Don't want to sweat so much during your midday workout that you have to spend an hour in the locker room? Choose something that still hits your workout goals without the red face and limp hair. Choose a Pilates or yoga class if you don't want to go all out, or pick a shorter, intense class that still affords you time to shower and primp before having to head back to work.
Read on for three more tips.
What you wear: On the days you know you're hitting the gym, make life easier for yourself by choosing office attire that's easy to throw on and off. That means leaving the sheer tights at home or opting for a comfy dress. Knowing you can easily change in and out of your clothes can make it easier to convince yourself to hit the gym.
Keep extras: It's easy to fall for any excuse not to leave your desk to work out — especially if you're missing some workout essentials. Make a habit of keeping some important items, like a clean pair of socks and an old pair of running shoes, at your desk as backup in case you forget to pack something in your gym bag.
Encourage a co-worker: Workout buddies make skipping out on an exercise session that much harder, so persuade a co-worker who goes to your gym to synch up with your workout schedule. You may start thinking of your midday workout more as a fun excursion with a friend than a chore!