How to Motivate Yourself to Move More
5 Ways to Make Moving a Habit
We all should take time to relax, but sometimes we don't realize just exactly how sedentary our lives can be. Even if you devote an hour to exercise most days, if you're not moving a lot the rest of the time, you can be doing more harm than good. So start making moving a habit with these five tips.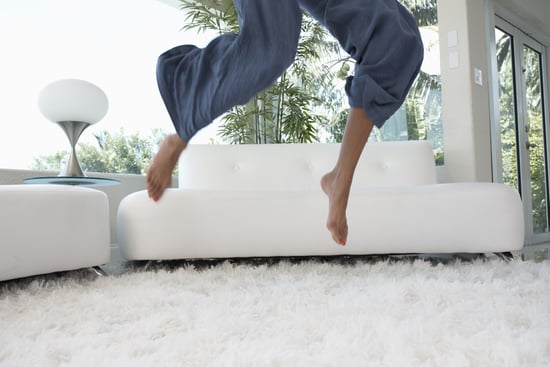 Keep track: One of the best ways to encourage yourself to move is to get a fitness monitor that tracks your steps. You don't have to invest a lot — while more sophisticated trackers (like these five fitness monitors) track your steps as well as your exercise (some can also distinguish between walking on flat ground and when you're going up steps), you can buy a basic pedometer for just a few dollars.
Try a one-minute move: Whether you're folding laundry or watching TV, multitask by building muscle while you work. Take a one-minute break to dance around or do squats, lunges, or planks, and you'll raise your heartbeat as well as your energy levels.
Read on for three more ways to making moving a habit.
Take a walk when cravings hit: In the mood for an afternoon snack? Before you reach for the nearest box of cookies, think about if you're actually hungry or not. If not, take your mind off of your cravings by taking a break to walk around for a few minutes. Whether that means you go grab a cup of coffee from the nearby café or just walk around your office, moving instead of snacking can combat mindless eating.
Put a limit on couch time: It may seem extreme, but putting a limit on how long you can relax on the couch after work or on the weekend can encourage you to get up and do something else. Whether you track by TV episodes or make a note to check your phone's clock when you settle down for the evening, keeping a limit on how long you're sedentary will make you healthier overall.
Schedule a friend date: There's nothing like a good catching up session with a friend, but it doesn't always have to be over drinks or dinner. The next time you and a friend are due for a gossip session, forgo the happy hour planning for something active — a bike ride followed by dinner, a walk around the park, or trying out the new yoga studio in your neighborhood.