How Much Calcium Is in That?
You might not give much thought to how much calcium you get (or even know how much you need), but if you're a woman in your 20s, 30s, or 40s, then you'll be glad you paid attention. Calcium is needed for building strong bones until you reach your mid-20s, and after that, it helps keep your bones healthy and slows down bone density loss to prevent osteoporosis later in life.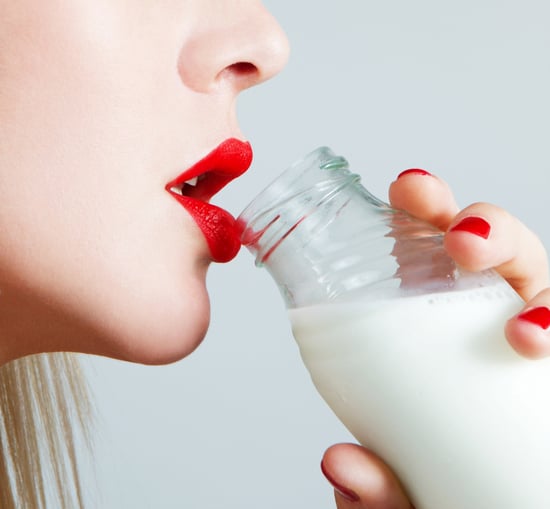 The RDI of calcium for women over 19 years old is about 1,000 mg per day. Dairy products are a great source of calcium, but they're not the only source, which is good news for those following a vegan diet. Check out the chart below to see if you're getting enough.
| Dairy Products and Nondairy Milks | Calcium (mg) |
| --- | --- |
| 1 cup skim milk | 300 |
| 1 cup unsweetened soy milk | 300 |
| 1 cup enriched original rice milk | 300 |
| 1 oz. part-skim mozzarella | 222 |
| 1-oz. slice Swiss | 222 |
| 1 oz. monterey jack cheese | 211 |
| 1-oz. slice provolone | 211 |
| 1 oz. cheddar | 210 |
| 6 oz. nonfat vanilla Greek yogurt | 200 |
| 1 mozzarella cheese stick | 200 |
| 1/2 cup vanilla frozen yogurt | 200 |
| 1/2 cup vanilla ice cream | 150 |
| 1 oz. feta | 140 |
| 2 tbsp. grated parmesan | 125 |
| 1 slice organic American cheese | 100 |
| 1/2 cup low-fat cottage cheese | 78 |
| 1 oz. chèvre | 40 |
| 2 tbsp. cream cheese | 23 |
| 8 medium sardines (canned) | 367 |
| 3 oz. cooked clams | 78 |
| 4 oz. halibut | 68 |
| 3 oz. cooked Alaskan crab | 50 |
| 3 oz. cooked oysters | 48 |
| 1 can tuna in water | 18 |
Veggies, Legumes, Nuts, and Seeds
Calcium (mg)
4 oz. extra-firm tofu
199
1 tbsp. sesame seeds
88
1/2 cup black soybeans
80
1/2 cup cooked bok choy
79
20 cup raw almonds
60
1/2 cup kidney beans
60
1/2 cup black beans
60
1/2 cup chickpeas
60
1/2 cup pinto beans
60
1/2 cup shelled edamame
50
1/2 cup cooked butternut squash
42
1 tbsp. almond butter
40
1 cup raw kale
38
1/2 cup baked sweet potato
38
4 Brazil nuts
32
1/4 cup raw pistachios
30
1/2 cup cooked green beans
28
1 cup raw spinach
28
1/2 cup raw broccoli
21
1/2 cup celery
20
1 tbsp. tahini (ground sesame seeds)
20
| Fruits | Calcium (mg) |
| --- | --- |
| 1 cup calcium- and vitamin-D-fortified orange juice | 350 |
| 4 medium dried figs | 70 |
| 1 medium naval orange | 60 |
| 2 Medjool dates | 31 |
| 1/4 cup raisins | 18 |