How Much Water Should You Drink When Exercising in the Heat?
How to Stay Hydrated While Working Out in the Heat
If you've been working out in the sweltering heat, you probably don't need us to remind you to drink water to keep from becoming dehydrated. But knowing just how much and when you should drink can help you stay on track with your workout. Here are some tips and tricks to stay hydrated while you sweat it out in the heat.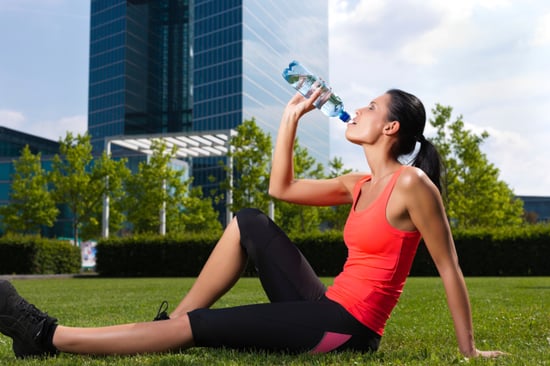 Keep it cold: If you're going on a long run, you can end up with a warm drink long before you've reached the end of your route. To keep your water cool and refreshing throughout the miles, bring along one of these insulated water bottles that keep water cold in the heat, or try this trick: stash your water bottles along your route in a well-hidden place.
Know how much to drink: Not drinking enough water while you work out in the heat can have dangerous consequences, but so can drinking too much — overhydrating can lead to a serious complication called hyponatremia, or lack of sodium in your body (while it's not common, make sure you know the signs of hyponatremia). General guidelines suggest that you drink six to eight ounces of water or sports drink every 15 to 20 minutes during exercise, especially in the heat.
Hydrate before: Take it from someone who's used to grueling workouts in the sun: Olympic beach volleyball player Kerri Walsh. She recommends you drink enough water the day before an intense workout or race in the heat so you can perform at your best. "If you are not prepared, you cannot work out intensely," Kerri says.