How Much Water You Should Drink at the Gym
Your Bottle Size May Be Helping or Hindering Your Water Consumption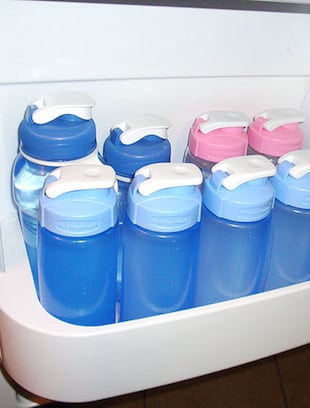 It doesn't matter if I'm in a power cycling class or walking on a treadmill, the smaller the water bottle, the less water I drink. Similar to tricking your mind to eat less by using smaller plates, I guess the effect is the same with bottle size. Don't be fooled by a small bottle. Here's how to make sure you're drinking enough water while working out.
Drink up before you work out. One to two hours before you hit the gym, you should be drinking 15 to 20 ounces of water (one cup = eight fluid ounces) — roughly an ounce of water for every 10 pounds of body weight. Then 15 minutes before you work out, you should drink between eight and 10 ounces of water . . . I know this seems like a lot, so potty breaks are understandable!
Forget about the size of your bottle. If you love using your small water bottle at the gym, you'll also need to love trips to the water fountain as well. During your workout, you should be drinking another eight ounces every 15 minutes to keep yourself hydrated. Being well hydrated helps to keep you energy levels up, even when lifting weights. If at any point you feel thirsty, you're already dehydrated — so make sure to drink up. And don't forget that water bottles come in all shapes and sizes! Here are some of my snazzy top picks.
Keep reading for another important tip.
Be careful not to overdo it. It's always good to hydrate while working out. But there is such a thing as drinking too much water — it's known as hyponatremia or water intoxication. This occurs when you have an abnormally low concentration of sodium in your blood. Guzzling a ton of water in a short amount of time can overload your kidneys and cause a drop in blood sodium levels. Sodium is important to your body because it's an electrolyte (just like potassium and chloride). Hyponatremia symptoms include fatigue, headache, disorientation, confusion, hallucinations, nausea, restlessness, and seizures and may result in a coma, or even Source: Flickr User Rubbermaid Products