How to Open Tight Hips
Stretch It: Twisting Double Pigeon
Tight hips are a common complaint among active people, especially those who run, ski, or bike. Pigeon and Double Pigeon are two of my favorite stretches for opening up my hips and stretching my glutes. If you're looking for a new variation to add to your stretching routine, give this one a whirl.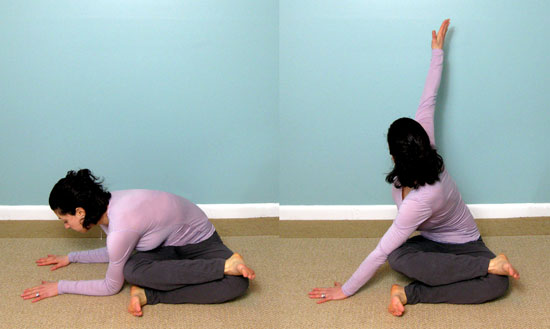 Sit on the floor and bend your left knee so it is parallel with your tummy.
Bend your right knee and place it on top, so your ankles and knees are stacked, and your shins are parallel. You'll know you're doing it right when you gaze down and see that your legs make a little triangle.
You may find your top knee to be way high up toward the ceiling — it's OK, it just means that your hips are tight. Working on this stretch will help to open those tight hips.
Place your hands in front of your shins and walk them toward the right so both hands are beside your right thigh. If you're flexible, lower your forearms to the floor. To increase the twist, lift your right arm into the air and gaze at your palm while pressing your left elbow against your right knee.
After 30 seconds or so, place your right hand on the floor, walk your hands back to the center, and walk them all the way over to the left side. To increase the stretch, raise your left arm in the air and gaze upward.
Walk your hands back to center when you're ready and then sit up. Straighten both legs out in front of you. Then do Double Pigeon with the right leg on the bottom, and repeat walking your hands first to the left, and then to the right.