How to Order a Healthy Bagel
Order Right: 5 Tips For Healthier Bagels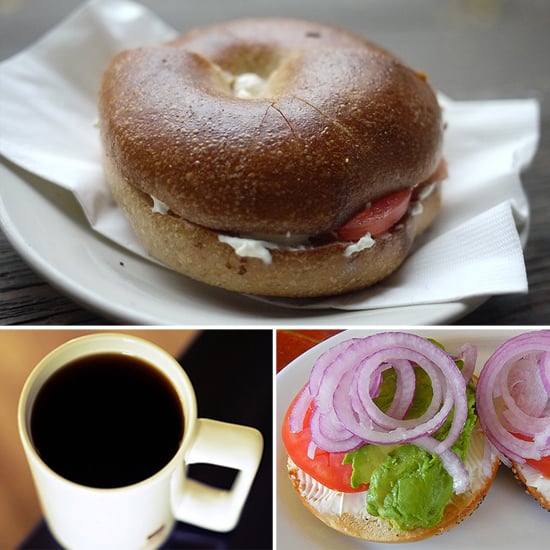 Starting off the day with a toasted bagel has always been a favorite treat of mine. Sometimes seen as an off-limits food, bagels offer plenty of options for a healthy variation.
Say goodbye to sweets: Cinnamon raisin and chocolate chip bagels may be favorites, but they're definitely not a healthy way to kick-start the morning. All that extra sugar will just make you crash earlier.
Scoop it: Whether you're ordering from your favorite corner spot or toasting one at home, scooping out the center of a bagel is an easy way to lower carbs and calories. Be sure to scoop out your bagel before you toast it to keep the process as easy as possible.
Learn to love whole wheat: Refined grains always manage to sneak into our day when we're not cooking at home. With all the healthy benefits that whole grains offer, making the shift to whole wheat bagels is a no-brainer.
Keep reading for more ways to lighten up your bagel routine.
Go light when possible: If there's a low-fat, vegan, or whipped cream cheese offered, then make this part of your standard order. These lighter options offer fewer calories without missing out on any of the flavor or texture. Or opt to spread your bagel with hummus, peanut butter, or avocado.
Pile on veggies: Consider switching up the cheese on your morning bagel, and instead lay on the veggies. If you're not sure where to start, it's hard to beat avocado spread on a bagel topped off with tomato and red onion — it's a must-try combo!
If you're anything like me, then a bagel is just not breakfast without that perfect cup of coffee. But you may be gulping down an unhealthy drink without even realizing! Check out these awesome healthy coffee shop tips to help you choose wisely.
Source: Flickr users barry.pousman, DeaPeaJay, and mikefats