How to Order Healthy Chinese Takeout
Order Right: 8 Ways to Healthier Chinese Takeout
Chinese takeout is one of those comforting meals that has a permanent home on my speed dial. After a long day of work, there's nothing more satisfying than being able to order in instead of slaving away over a stove. Even if you've taken on a healthy food plan, you don't have to give up this fast and quick option altogether. There are plenty of smart and simple choices you can make to revamp your Chinese takeout order and boost the health value of your meal.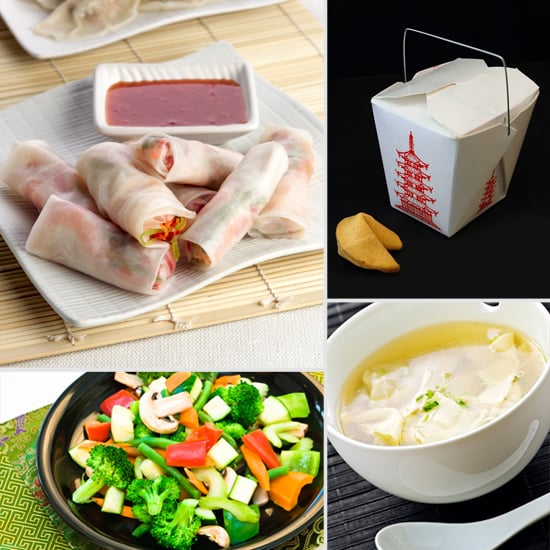 Start with a lighter appetizer: Filling up on delicious, wonton, egg drop, or hot and sour soup helps avoid loading up on heavier Chinese entrees that come later in the meal. If egg rolls, chicken wings, or Hoisin ribs are usually your standard, swap those out for a steamed dumpling fix instead.
Forget the fried foods: Fried dumplings, crispy egg rolls, and yes, even fried rice are foes not friends. What's actually packed into these treats may not seem that bad, but all that oil changes the equation. Luckily there are plenty of alternatives to satisfy your taste buds. Enjoy steamed veggie dumplings instead of fried gyoza, and go for rice paper spring rolls stuffed with bright veggies instead of traditional egg roll fare. Choose steamed rice over fried, and opt for braised dishes or stir-frys whenever possible.
Look for a light menu: My favorite Chinese takeout spot offers a "health menu" with plenty of great options that offer more veggies and less oil. You may be weary of skipping out on your standard order, but you may find a new favorite, flavorful dish. If a lighter menu isn't available, ask the restaurant to use less oil and up the veggies.
It's all in a name: Instead of city or regional descriptions, look for Chinese entrees that offer veggies up front. Mongolian beef or kung pao chicken may have been your go-to moves, but dial in for beef and broccoli, chicken with snow peas, or chicken with mushrooms. These low-calorie alternatives will help you get your meaty fix.
Keep reading for four more ideas for healthier Chinese ordering.
No more white rice: Calorie for calorie it seems like no biggie, but hopefully you've already said goodbye to white rice and refined carbs for good. Not only does white rice increase your risk for diabetes, brown rice offers far more fiber, magnesium, and potassium than its white counterpart.
Pick up those chopsticks: We know that eating more slowly will help you fill up faster. Unless you're truly a chopstick pro, picking up a pair will slow you down and hinder shoveling your food with the same ease of a fork or spoon. I've made the move to eat with chopsticks whenever possible in my apartment, and it's really helped me eat less and feel more satisfied.
Say no to extra sides: Forget the days of extra duck or black bean sauce, and instead welcome some colorful veggies to your plate. There are some truly delicious vegetable dishes that you can only get at a Chinese takeout spot. Enjoy them!
Share your favorites: If your mouth waters at the sight of lo mein, there's no need to say goodbye forever. Get a small order, but be sure to really share with friends or family as a treat. Don't make it your main course, but having a bite or two will help you get your fill of a favorite flavor without any added guilt.