How to Order Healthy Sushi
Order Right: 8 Techniques For Healthier Sushi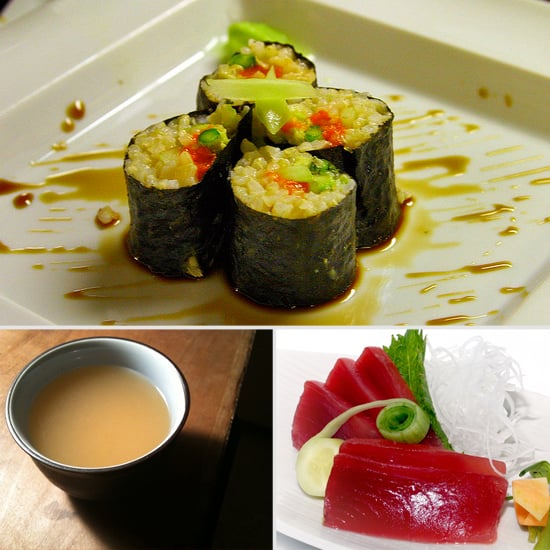 Whether I'm ordering in or taking out with friends, sushi always has a home at my table. It seems like a light option, but if you're not being mindful, this tasty Japanese cuisine can really lay on the calories and sodium. Luckily, there are plenty of delicious ways to eat healthier at your favorite sushi spot.
Start right: Big appetizers are just not necessary when you're enjoying sushi. Opt for a bowl of miso soup or a seaweed salad. While there's nothing I love more than the traditional green salad, sometimes you've got to be careful of the amount of sugar and oil in a ginger dressing recipe.
Everything in moderation: With so many options on the menu, you may just rattle off a ton of food without thinking. Start slow! Order two small rolls or a few pieces of sashimi. The worst thing that will happen is that you'll order more if you're still hungry.
Choose the right condiments: Mayo and cream cheese are not necessary elements for sushi bliss. Forget creamy parts of the roll, and focus on potent flavors like ginger and wasabi. Ginger is a great tool for boosting your immune system, while wasabi is packed with loads of antioxidants — the radish it comes from is a member of the cruciferous veggie family.
Skimp on sodium: Low-sodium soy sauce is one of the easiest shifts you can make at your local sushi spot, without sacrificing on taste. Even though there's less sodium in the lighter option, there's no reason to pour it too heavily.
Keep reading for four more healthy sushi tips.
Bring on brown rice: We're constantly singing the praises of brown rice and putting down white — sushi is no exception to the rule! Brown rice helps you get in a sufficient amount of fiber and offers other healthy minerals like manganese and phosphorus. If you're feeling like all the rice is too much, try a refreshing roll wrapped in cucumber.
Order for omega-3s: Get those good fats our bodies need at your sushi table. Tuna and salmon both pack a powerful punch of omega-3s and are lower-calorie options than other menu items.
Keep out crunch: Tempura flakes and crunchy rolls can be delicious, but all that fried food doesn't belong on a healthy table. It's really just covering up the natural and delicious flavor of the rest of the roll. If you've got to have it for a treat, make sure to share with friends.
Embrace simplicity: One of the most beautiful parts of traditional sushi is the simplicity and elegance of the meal. Instead of crazy rolls filled with tempura or dairy products, focus on fresh flavors. You'll leave feeling full and satisfied — not stuffed.
Source: Flickr users rbaldus, TheDeliciousLife, and frankartculinary