How to Order Healthy Thai Food
Order Right: Techniques For Healthier Thai Takeout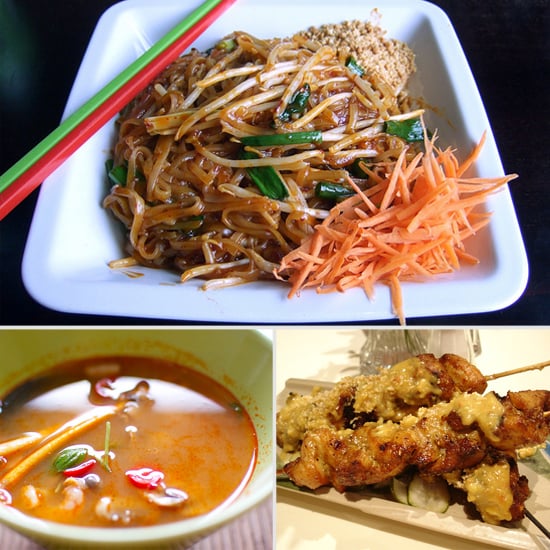 Influenced by several Southeast Asian cultures, Thai cuisine is some of the tastiest food for a takeout lover. The tradition of Thai food packs a ton of flavor, but if you're not careful, it can pack on the calories too. But there are foolproof techniques to help you order Thai right tonight.
Bring on broth-based soups: Not all Thai soup is created equally; many recipes call for coconut milk. While it's creamy and delicious, coconut milk is loaded in saturated fat. Be sure to ask what the base of your soup is, and always choose a broth-based dish when possible. I'm partial to tom yum soup, with its hot-and-sour broth made from lemongrass, galangal, kaffir lime leaves, chilies, and lime juice.
Think fresh, not fried: Fried egg rolls are just not worth the order. What's actually packed into these treats may not seem that bad, but being fried in heavy oil changes the situation. Luckily, there are plenty of alternatives to satisfy your taste buds; go for fresh spring rolls or a plate of grilled chicken satay.
Go veg for the night: Cutting calories with takeout food can be a laborious process since you're not sure about every ingredient going into the mix, but cutting out meat is an easy way to create a lighter dinner that still offers all the flavors you love. Just make sure to request soft tofu, since many restaurants fry the meat alternative before putting it into a dish.
Keep reading for three more techniques to healthier Thai takeout food.
Turn up the heat: Thai food is known for its powerful, spicy powers; there's no better place to turn up the heat. If your palate can handle it, then go for medium to hot spice. It can be a powerful tool in boosting your metabolism by kicking up your body's temperature and speeding up your body's fat-burning process.
Choose carbs wisely: Some of our favorite Thai dishes are based on noodles or offer sides of rice. If you're going to partake in either of these options, then choose only one. There's no need to load up on both and find yourself in a Thai food coma.
Ditch (or share) dessert: Even though there's typically a fruit in the name, the cakes, puddings, and sticky rice sweets that Thai menus offer are not mindful options. If you just can't say no, then share one dessert among a party of people, or opt for a plate of fresh fruit or sherbet to end the meal on a healthier sweet note.