How to Not Overeat Snacks
3 Reasons You're Eating Too Much of That Afternoon-Evening Snack
In between lunch and dinner, you know it's time for a snack when you're doing more staring at the wall than staring at your computer. Before reaching for just any afternoon nibble, find out what common mistakes you're making that cause you to overeat.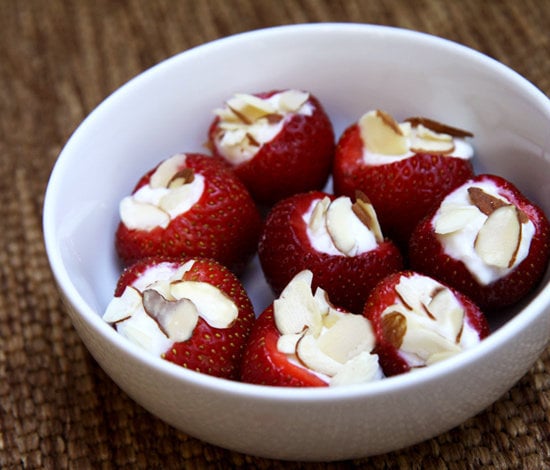 Eyeballing: An appropriate snack size is around 150 calories. If you guess how many chips you think fall under that amount, then chances are high that you're overestimating. Even worse is mindlessly noshing straight from the package while doing something else; because you're not paying attention, you end up devouring a minimeal instead. Your best bet is to measure out 150-calorie snacks before you start eating and to take a five- or 10-minute break to sit down and really savor each bite.
A too-sweet tooth: Sugar cravings are especially high after lunch because of an afternoon slump. While a cookie or soda might pep you up initially, blood-sugar levels will quickly drop, leaving you with even bigger cravings. Go for snacks packed with energy-sustaining protein and belly-filling fiber instead. Try something fruity and summery, such as these banana-cream-stuffed strawberries.
Tick-tock: It's been well over three hours since you finished your last bite of lunch, and you're so starving for something to nosh on that you end up eating way more than the 150-calorie recommendation. Prevent that famished feeling by designating a specific snack time each afternoon. Set your phone or computer alarm, take five, and enjoy a healthy snack you've already prepared from home. Here are some snack ideas to satisfy salty cravings, and to indulge your sweet tooth, here are 150-calorie fruit-inspired nibbles.