How to Prep For a Morning Workout
Prep For Your Workout the Night Before
Morning workouts are perfect for people who prefer getting it over with before work. But if you're like me, you end up wasting time running around your house searching for things, when you should be out running! These time-saving tips will take minutes to do the night before, but they'll save you time in the morning, making that a.m. workout more likely to happen.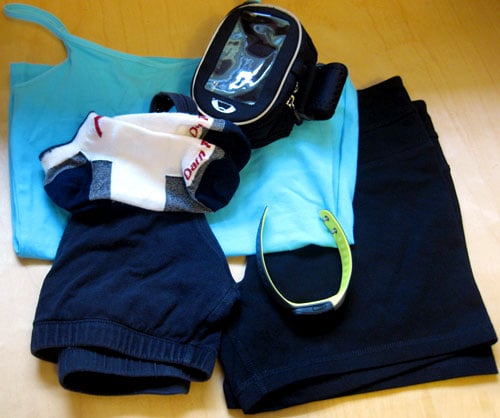 Hand wash your sports bra in the shower after your workout so it's clean and dry for the next day. This not only saves you time in the laundry room, but it'll also make your sports bra last longer.
If you need to wash more than your unmentionables, throw in a load of laundry to clean smelly socks, towels, and tank tops.
Lay out your workout clothes and gear before bed. Be sure to think of everything you need and put it all in one place including your wicking underwear and sports bra, tank top, shorts, socks, sneaks, sunglasses, hat, headband, sunscreen, iPod, headphones, yoga mat, your dog's leash — anything and everything you'll need.
Keep reading for more time-saving tips for morning workouts.
If you're working out at a gym or studio, pack it all in your gym bag and leave it by the door. Be sure to throw in anything you'll need after your workout like toiletries, makeup case, work clothes, and shoes.
Prepare your pre- and post-workout snacks. Smear some peanut butter on a slice of bread, make a container of sliced cheese and crackers, or wash and cut up some apples paired with raw almonds.
If you're following along to a fitness DVD at home, stick it in the DVD player so it's ready to go. Be sure to gather all the gear you'll need including dumbbells, a resistance band, and a mat.
Charge all the gear you'll need including your iPod or GPS.
Fill up your water bottle and throw it in the fridge so you can quickly grab frosty cold water for your workout.
Call up your workout buddy to iron out the details of where and when you'll meet in the morning.
If you're taking a class, double-check the schedule to make sure you've got the time right. If it's a new place, make sure you have directions.
Set your alarm. It'd be a shame to do all this prep work and sleep through your workout!