How to Prepare For Bathing Suit Shopping
Trying on Swimsuits Is Horrible, Study Says: 4 Ways to Make It More Fun
If you've ever panicked in the dressing room trying on swimsuits, you are not alone. A new study published in the journal Sex Roles says that for some women, even just imagining trying on swimsuits causes a bad mood. But the real surprise from the study? While it may seem like wearing a swimsuit in a public setting would stir up more negative feelings, women are most likely to pick apart their appearance in the dressing room. I'm definitely no stranger to the stresses of trying on bathing suits, and if you've ever felt the same, here are ways to make the process as easy and light as possible!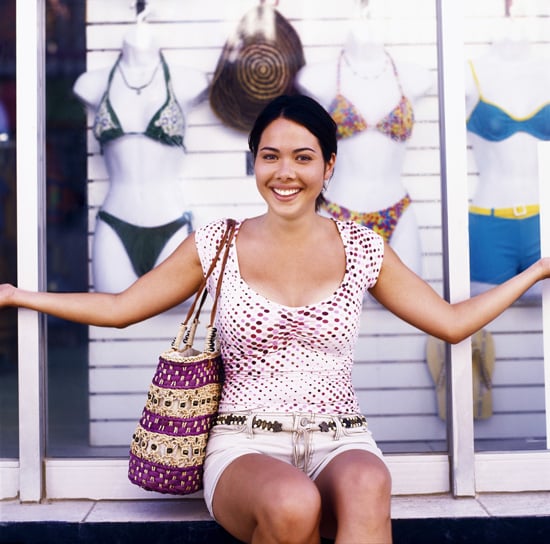 Prep before you go: Get your body beach-ready before you hit the stores. Shave your legs, add some makeup or self-tanner, and spend a little extra time putting yourself together. The extra effort will go a long way when you're trying on suits. If you go into the store already feeling a little messy, it's going to make the whole process harder.
Focus on the right things: Chances are, you're buying a bathing suit because you've got some fun planned in your future! Whether you're heading to a tropical locale with your family or hanging out by a pool with some friends, concentrate and try to visualize the positive parts of what's to come. Buying the suit and hanging in the dressing room is just a means to an end.
Keep reading for two more ways to making bathing suit shopping easier.
Find a shape that flatters: You may want to get in and out of the dressing room as soon as possible, but it's time to rethink that thought process. Grab a variety of different suits and spend a decent amount of time trying things on. How else will you know what looks best? Don't be afraid to ask a close confidant to come along for a little advice. Bringing a trusted friend to help you pull lots of swimsuits will make the whole process feel far less painless. Here are tips on finding the best bathing suit for your body.
Give yourself a break: Can you even imagine checking yourself out in the mirror and saying something nice about the way you look? Half the battle of feeling better in a bathing suit is stirring up a little self-confidence. No one is perfect. While there may always be aspects of your appearance you think could be improved, the dressing room is no place to pick yourself apart. When all else fails, remember that it's not just you. You'll be hard pressed to find a friend who tells you how much she loves shopping for bathing suits!
Any other tips for bathing suit shopping? Share your tips below!