How to Prevent Back and Neck Pain at the Office
Healthy Computing: How to Create an Ergonomic Desk
You might not be able to swing a professional ergonomic evaluation, but you can make simple changes to your desk environment to sit up a little bit straighter and avoid neck, wrist, and back strains. While ergonomics is about proper seating position, it also includes common habits you might be unaware of, like your line of sight toward a computer screen and how you type. Try out these adjustments to your work space and your moving habits, and tell us if you notice the difference.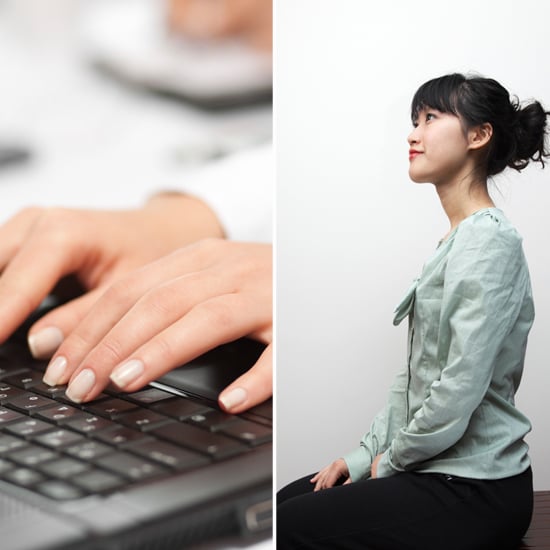 To sit ergonomically, your knees and ankles and shoulders to wrists should be positioned in 90-degree angles to your keyboard. If you are on the shorter side, keep a footrest underneath your desk, so your feet aren't dangling. Your back should remain neutral, with something supporting your lumbar spine. Here's a helpful diagram of correct sitting and typing ergonomics.
Keep your keyboard, mouse, and phone within your forearm's length. When you are typing or clicking on your mouse, your wrists should be in a neutral position (not angled up or down) and up in the air rather than rested on the table or on a squishy "wrist support." Resting your wrists actually places greater strain on the sensitive tendons. Also, your elbows should remain close to your body throughout the day.
Find out more tips by clicking here.
When you look at your computer screen(s), check to see that your eye level hits the first third of the computer screen. If your company doesn't provide computer risers, use old phone books to lift the screen to the appropriate level. This way you aren't angling your neck up or down in order to view the screen.
Everything you use frequently should be within your forearm's reach. However, when you need to lean over for something across from you, avoid the twist and reach. Instead, shuffle your feet in small steps to the side you need to go, and use your legs to lift you up before you reach for the item.
If you feel your muscles cramping and your eyes straining, it means you need to give yourself more mini breaks. Stand up every 20 minutes and do a little stretch near your desk or go for a water break. In addition, look away from your computer every few minutes at something in the distance to give your eyes a break.