How to Prevent Chafing When Exercising
Unwanted Side Effect of Exercise: Chafing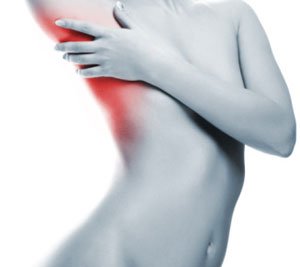 Aside from blisters, the dreaded shin splints, and pulled muscles, there's another demon trying to stop us from getting in a good workout — chafing. When you're sweating and your skin is either rubbing against loose fabric or other skin, you're left with a stinging, burning sensation. The area usually looks red and raw, and can get so irritated that it bleeds. You may have noticed male marathoner's bleeding nipples, and although we can praise our sports bras for preventing such cruel pain, we're not immune to chafing in other areas. For us, chafing often occurs around the bra line, the inner thighs, and under our arms, but really, it can occur anywhere.
Chafing can end your workout in a flash, so here are some ways to prevent it.
Stay dry. Moisture from sweat is a no-no, so wear moisture-wicking clothes on all areas of your body. Cotton t-shirts and shorts will stay wet, so opt for the ones made of soft merino wool or a synthetic material that's designed to draw moisture away from your skin and dry quickly.
Avoid loose clothing in sensitive areas. The constant moving and rubbing of the material may not seem like much as first, but after a few miles, it's sure to irritate your skin till it's raw. Opting for a snug fit will do wonders for your skin; just make sure clothing isn't too tight, as that can aggravate your skin as well.
Go seamless. You may have to pay extra money for clothes that have smooth seams, but it's so worth your comfort. Also look for clothes that don't have any tags.
Try a product like BodyGlide or Vaseline to keep your skin lubricated. This is especially useful on longer runs or workouts. Or you may prefer a product like talcum powder that keeps your skin dry.
What's your strategy for avoiding chafing?