How to Prevent Constipation
Don't Let Traveling Get You in a Bind
The stress of traveling and being away from home can really mess with your bathroom schedule. Changing times zones, eating foods you're not used to, and skipping out on exercise doesn't help either. To prevent tummy issues, here are some tips on how to stay regular when traveling.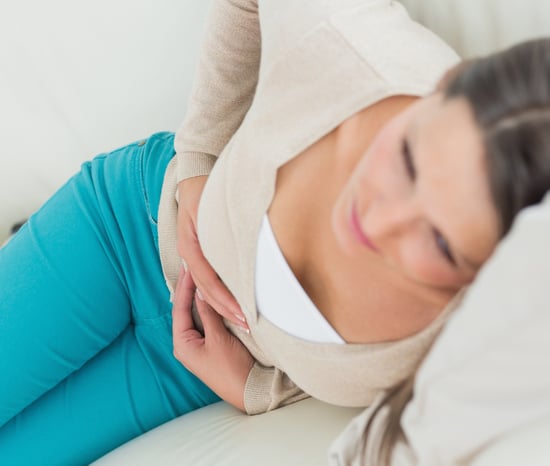 Sips will save you: Make room in your purse or carry-on for your reusable water bottle. Keep it filled and remember to drink water whenever you can as your choice of beverage. Not only will it keep you hydrated and ease jet-lag symptoms, but it'll also keep things moving down below.
DIY snacks: Skip the gas station minimarts, and bring your own high-fiber snacks. Nibble on carrot sticks, apples (with the peel), trail mix with dried fruit and nuts, granola bars, and whole-grain cereal. Having healthy snacks on hand will prevent you from eating processed foods that can tie the digestive system in knots.
Eat like you're home: Make or order the healthy, high-fiber meals you're used to eating at home that include fresh fruits (especially pears, berries, and kiwi), raw and cooked veggies (these are the 10 highest sources), beans, and whole grains. Make a point to eat a big salad each day, and if you love your smoothies, pack your NutriBullet along for the ride.
Avoid these: Certain foods can slow down your digestive system such as red meat, unripe bananas, and foods high in fat. And although caffeine is a stimulant that can usually help move things along, it has the opposite effect if you're dehydrated, so drink lots of water when eating chocolate or enjoying coffee or caffeinated tea.
Don't forget your sports bra: Skipping out on exercise slows down your digestive system, so even if you won't be near your favorite gym, try to stick to your regular exercise routine by finding a way to get out and move each day. Check out a new yoga studio, go for a run or family hike, turn on a fitness DVD in your hotel room, or bring along a compact resistance band and do this 10-minute workout.
Get some "me" time: Give yourself ample time when in the bathroom. The digestive track tends to slow down under pressure.
Bring a little help: If you know your body well and just the emotional stress of traveling or having to share a bathroom with your relatives prevents you from being able to relax and go, pack some methylcellulose pills, such as Citrucel, in case you're really having issues. They're made of 100 percent soluble fiber to keep you regular, and for most people, they don't cause gas, bloating, or diarrhea.