How to Prevent Fall Weight Gain
How to Prevent Packing on the Pounds This Fall
Fall is hands down my favorite season, but the change in weather and daylight can throw your health and fitness routine out the window. Don't let the cooler season get the best of you. Here are tips to prevent weight gain in Autumn.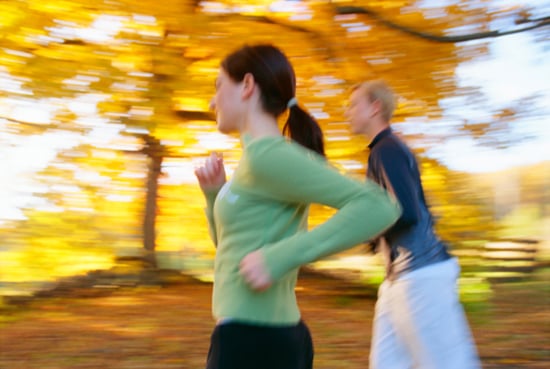 Make Time to Move
Goodbye to the lazy days of Summer and hello to the busy hustle and bustle of Fall! Between work, the holidays, grocery shopping, errands, etc., it's easy to push exercise to the bottom of the list. It should be just as much a priority as any other appointment you have. On Sunday night, mark your weekly workouts in your calendar so you don't make excuses to skip out.
Be Inspired by Colder Temps
Put away the shorts and tank tops and get out the pants and long sleeves. Or buy new Fall gear to motivate you to move in the cooler temps. You might find you actually prefer exercising in the Fall to working out in the heat.
Keep reading for more tips on how to prevent weight gain this Fall.
Schedule Workouts During Daylight
If you used to run in the morning or early evening and now you have to deal with shorter days, don't fret. It's time to choose a new exercise time during daylight hours. Use that hour in the morning you used to work out to get to the office a little earlier. Then you'll be able to skip out of work a little early and get your run in before dinner. If leaving work early isn't an option, exercise indoors so you're not left running in the dark.
Don't Overdo It on the Warm Comfort Foods
Creamy soups, warm buttered toast, hot coffee drinks, and steamy cheesy casseroles are what you crave when cooler weather strikes, but they tend to be high in calories. Enjoy the warm foods you desire, just watch your portion sizes. Also make a habit of enjoying them with a big salad on the side. Also, try one of our recipes for healthy comfort foods.
Bake For Your Friends:
Fall never fails at inspiring me to turn on the oven and bake up some apple crisp, pumpkin bread, and oatmeal cookies. If you're into baking, make a point to enjoy a little for yourself and give the rest away. Invite friends over for dinner to enjoy the apple pie you whipped up, or walk a plate of pumpkin cheesecake squares across the street to your neighbors.