How to Prevent Getting Sick in Yoga Class
How Yoga Classes Can Make You Sick
Sweating it out in yoga class could result in a case of the sniffles, and not because you're sweating out toxins. You get sick because you're coming in contact with germs and your immune system is losing. Here are four ways to effectively battle germs during yoga class.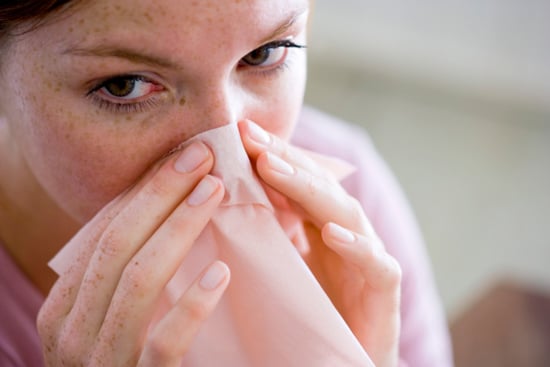 Borrowing a studio mat: I don't know what's more gross: how many people have sweat on those mats, or when was the last time these communal mats were cleaned. Either way, eww. It's time to invest in your very own yoga mat to keep germs at bay.
The teacher assists you: Of course the instructor is only trying to correct your alignment and help you get a deeper stretch, but she also helped Ellen, and Bobby, and Sue, and who knows who else and what germs they have. During cold and flu season I politely opt out of assists, and I've noticed a huge decrease in how often I come down with a cold.
Keep reading to learn more strategies for staying well while getting your asana on.
Sick people practice next to you: Yogis love to come to class to "sweat out their sick," thinking it helps shorten their colds. Unfortunately, this cure comes at everyone else's expense. If you notice a lot of people coming to the studio with tissues in hand, talk to the instructor or studio owner. Ask them to make an announcement in their classes about being mindful not to pass germs onto others.
The studio is air-tight: In hot yoga classes, windows and doors are shut and rarely opened. Breathing in the same moist air of 20 or more other yogis is one surefire way to catch a cold. Ask the instructor to open a door to increase ventilation, or choose classes that aren't as packed to cut down on your exposure to germs.