How to Prevent Holiday Party Weight Gain
Prevent Holiday Party Weight Gain With 3 Must Dos
Everyone's approach to beating holiday weight gain differs. Some amp up the exercise time, while others simply give in to the extra noshing and stick to clothing with elastic waistbands. Regardless of your philosophy, the abundance of holiday parties, full of rich foods and fancy cocktails, is a major reason the numbers on the scale often go up. Keep these three tips in mind at your next shindig, and hopefully you can prevent your waistline from expanding this season.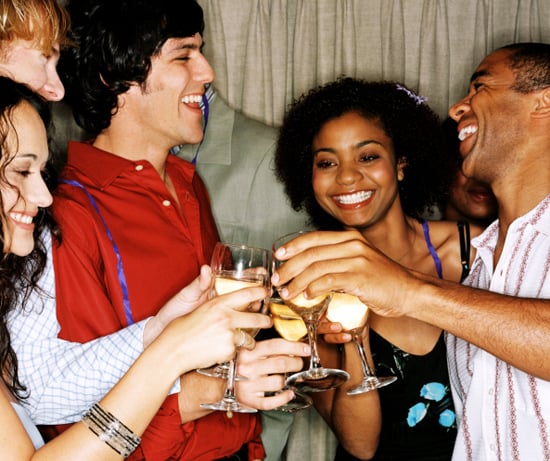 Don't Show Up Famished or Empty Handed
Before heading out the door, snack on something filling like a banana with peanut butter, a pear with some almonds, or some whole grain crackers with hummus. Combining fiber and protein in a sack is satiating, so you won't arrive famished and end up making a meal out of appetizers. To show your hosts some appreciation for throwing the party, it's nice to bring along a present; but instead of the usual bottle of wine, prepare a healthy dish or dessert to complement the meal. Not only will party-goers appreciate the gesture, but you'll know at least one thing on your plate is good for you. This chard, avocado, and asparagus quinoa makes a great side dish, and a batch of healthier holiday cookies are often a nice addition as well.
Continue reading for two more tips to help prevent holiday party weight gain.
Go Double-Fisted
Enjoy your beverage slowly to savor the flavor and keep a glass of water in the other hand; alternate between taking sips of your festive bevvy and good ol' H2O. Stick to one alcoholic beverage for the night and make it wine, a wine spritzer, or a vodka tonic since these contain fewer calories than most beverages. Skip the eggnog, chocotinis, and white Russians — these drinks can run over 300 calories per glass!
Don't Hang Out Near the Munchies
We tend to nosh when food is in front of us, so move your conversations away from the food. Before dinner, make up a little plate of fresh veggies, crackers, and cheese, and head out of the kitchen or away from the rest of the appetizers. If dinner is being served, talk in between bites, as it will remind you to slow down instead of inhaling your entire plate in under five minutes. Stay connected to how your body is feeling, and as soon as you sense you're getting full, stop eating and bring your plate to the kitchen so you're not tempted to pick at it while everyone finishes up.