How to Prevent Yoga Class Dangers
3 Yoga Class Dangers and How to Prevent Them
Yoga is associated with feeling joyful, open, and calm, but as with all types of movement, there are risks involved that make you go from "om" to "ow" in the blink of your third eye. Here are three common dangers you're at risk for when taking a yoga class and how to prevent them from happening.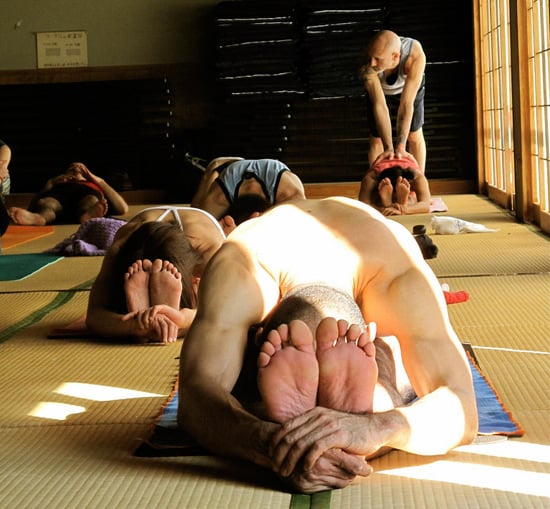 Slipping
Depending on their type of material, some yoga mats may be extremely slippery when wet. This slippery surface may cause a nasty fall while in a balancing pose or may make you accidentally slide into a full split when your hamstrings aren't even close to ready for it.
If your mat becomes a Slip 'n Slide as soon as you start sweating, place a slipless towel or cotton rug over the top to absorb moisture and offer hands and feet some traction. Bring a hand towel to class to wipe off your face and arms to prevent drips on your mat and also to wipe up any puddles you make on the floor next to your mat. Here are more tips on dealing with a slippery mat.
Continue reading to hear how to prevent a pulled muscle or dehydration in yoga class.
Pulling a Muscle
As brought to our attention in a recent New York Times Magazine article, yoga can wreck your body. Many people suffer from injuries, and in my experience as a yoga instructor, the most common I've seen are pulled muscles. When you're not properly warmed up, take classes above your ability level, or do poses you're not ready for, you're bound to push muscles past their limit.
Don't be ashamed to take beginner-level classes for years or to modify poses using blocks or straps. The most important thing is to listen to your body; one day your hips may love Pigeon pose, and the next, not so much. If you have an injury, take it easy and be sure to tell the instructor so they know why you might opt out of certain poses. Most importantly, don't be afraid to tell the instructor not to assist you. While doing a Seated Wide-Legged Straddle, a teacher pushed on me so hard, I suffered a pulled muscle that didn't fully heal for at least six months.
Dehydration
When doing any type of exercise where you're sweating buckets and not replacing lost fluids, you're at risk for dehydration, and yoga is no exception. When practicing yoga in a heated room, such as Bikram or Ashtanga, be sure to drink lots of water throughout the day before taking the class. Dizziness, headache, nausea, and dry mouth are all signs of dehydration. If you're experiencing them, step out of the room immediately to breathe some fresh air and sip some cold water.
Source: Flickr User gbSk