How to Reduce Calories in Hot Chocolate and Mulled Wine
Trim Calories Off 3 Wintry, Hot Beverages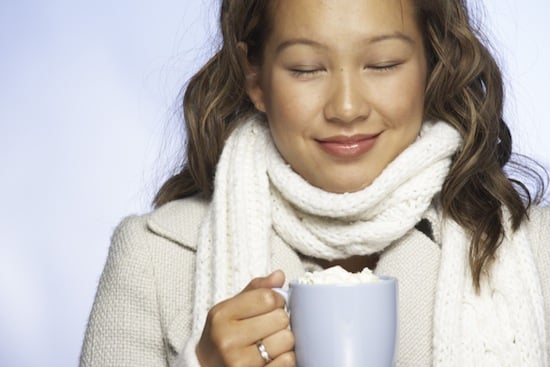 I've somehow managed to trick my brain into thinking that as long as I'm eating healthy, there's still room in my diet for hot, delicious beverages — especially at this time of year when a warm drink in your hands feels heavenly. But who am I kidding, most hot bevvies are full of sugar and calories. You don't need to give up on warm sippables, just try these calorie-cutting tricks on your favorite wintry drinks.
Hot Chocolate: A hot chocolate with the works — I'm talking whole milk and whipped cream — can get upwards to the 450 calories range. Now that is a lot of calories to consume in just one drink. You don't even find that many calories in sugary cocktails! Hot chocolate is one of my all-time favorite hot beverages, which is why I'm determined to cut the cals. Swap out your whole milk with a cup of skim milk, and skip the prepackaged hot chocolate mix and use unsweetened cocoa powder (1 1/2 tablespoons) instead. To add some sweetness, include 1/2 tablespoon of agave nectar in your cuppa chocolat chaud. Total calorie count now? Down to 140 calories.
Eggnog Latte: Tickle your taste buds with an eggnog latte this holiday season and you're in for a real treat — 460 calories to be exact if you pick one up from Starbucks. Don't fret my festive friends, although eggnog may not be the healthiest holiday drink, there are lighter alternatives available like Vitasoy's Holly Nog or Rice Dream Nog that contain only 120 and 160 calories respectively, per one cup serving. Either brew your own espresso to add to your eggnog, or use the darkest roast of instant you can find and double the amount you use. (Both instant coffee and espresso are void of calories). I recommend stirring the coffee into the eggnog over medium to low heat on the stove to get a nice frothy consistency.
Mulled Wine: With a combination of red wine, sugar, honey, orange and lemon peel, plus spices like cloves and nutmeg, you can basically call this cold weather

sangria

. Mulled wine generally contains about 208 calories, depending how much sugar is added. The sweetness from the red wine tends to be enough so no need to add any additional honey or sugar. Subtract two tablespoons of white sugar from your mulled wine, and you're already down 93 calories — that's only 115 calories in total. Try it. It's still yum.