How Relationships Cause Weight Gain
Do You Stay Healthy by Eating a Different Meal Than Your Partner?
It's official. I can no longer eat with the mister. He eats anything he wants, whenever he wants, and doesn't seem to know that portion control is even a concept! And the kicker is, he looks great. Since he's a rock climber, he's incredibly active, but he's also tall and lean by nature and has a metabolic rate that seems to be in overdrive.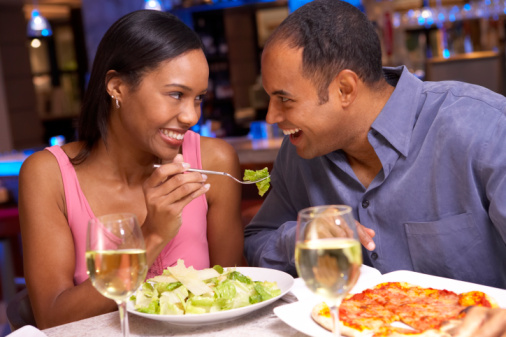 After a weekend filled with brunches out, movie theater snacks, and pizza delivery, I had to put my foot down. On Sunday, before settling down into our routine of Mad Men and True Blood, he suggested Chinese takeout. It was then that I replied, "We need to have a talk . . . " While I'm up for the occasional indulgent dinner out or sweet snack, there is no way I can make a habit of it like he does. And since he's sort of a takeout food junkie, we've decided that even though we might be eating our meals together, it's likely we won't be having the same food. I'm feeling loads better about things, and am already looking forward to a dinner filled with fresh veggies and quinoa! Tell me . . .