How to Remember to Drink Water
Breaking Bad (Habits): Not Drinking Enough Water
At work, it's easy to get a water-drinking system down; all it takes is several trips to a water cooler and a reusable bottle to stay on track. But when running around, remembering to drink enough water can be hard, which only leads to feeling tired or irritable. Prevent being under hydrated with these easy tips to break the bad habit.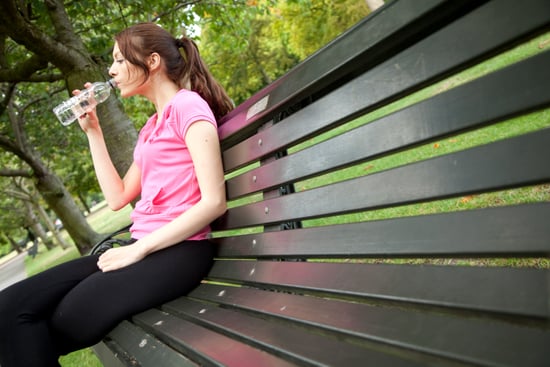 Take a bottle: Filling up at the drinking fountain or sink, wherever you are, is an easy way to ensure you'll stay hydrated. Keep a reusable bottle that fits into your purse (and doesn't leak) handy when you're running out the door. Try some of our favorite spill-proof water bottles here.
Have a goal: Declare your daily water goal — vow to refill your water bottle four times every day or keep a count of how many ounces you have to go to reach your 64-ounce number. Knowing how far or close you are to reaching your water intake for the day can be all the motivation you need to stop and take a drink.
Always order water: Stopping for a leisurely cappuccino at your favorite coffee shop? Buy a bottle of water or ask for a glass of tap to accompany it as well. If you're meeting friends for dinner or drinks, make sure you ask for water along with that glass of wine. Having a glass of water with your meal (or dehydrating drink!) keeps you on track.