How to Revamp Your Shopping Cart For a Healthier You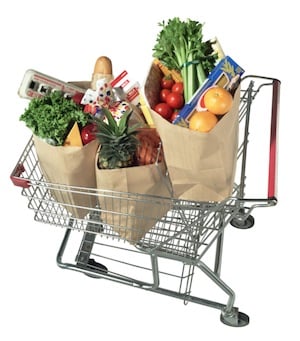 As a rule of thumb, we try to stick to the perimeter of grocery stores when grocery shopping. Because unless you're in a natural grocery store, the middle aisles are stacked with processed foods, sweets, and items filled with artificial ingredients, sugar, and empty calories.
We're already cleaning up our overall health and closets for Spring, so why don't we also re-examine our shopping habits and try to give our grocery carts a makeover, too?
In his newsletter this week, Dr. Weil offers some simple suggestions for shopping for foods that support an anti-inflammatory diet that includes:
Produce Section: Choose fresh, whole organic produce whenever possible. Fruits and vegetables from all parts of the color spectrum should make up most of your grocery items.
Canned or Packaged Foods: Choose no or low-sodium varieties. And, to avoid BPA-leaching canned goods, look for items packaged in glass, paper, or freezer bags, or shop from companies making BPA-free canned goods.
Grains, Breads, Cereals, and Legumes: Choose products made of whole, intact grains, not white or whole wheat-flour products. Stock up on healthy, inexpensive staples like dried beans, lentils, and other legumes.
As mentioned above, try to stick to the outside perimeter of your local grocery store so that you aren't tempted to load your cart with unhealthy processed items. When you're at the checkout, have a look at your cart — you'll know you had a successful shopping trip when you see an abundance of whole natural foods. Bon appétit!