How to Run Uphill With Perfect Form
The Right Way to Run Uphill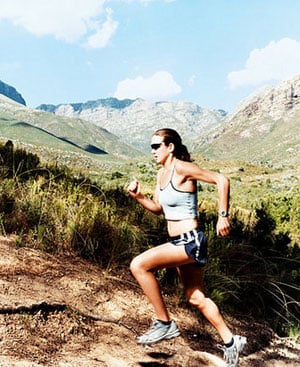 I don't despise running uphill, and I have my personal trainer to thank. I wouldn't say I'm head-over-heels in love with them, but now I seek hills out instead of avoiding them like I do corn syrup. I didn't always feel this way. I shied away from hills not because they're super tough to climb, but because they used to aggravate my knees and lower back. That is, until I learned proper form for steep inclines.
Put those arms to good use. Your legs are getting plenty of exercise when running uphill, so help them out by increasing the power in the swing of your arms. Imagine that your arms are pulling you up an imaginary rope. Keep your arm swing rhythm steady and your legs will follow.
Pay attention to your pelvis. As you run, you want to press your hips forward, keeping your shoulders stacked on top of your pelvis. This helps prevent you from leaning into the hill and bending forward at the waist, which can cause lower back and knee pain.
Knees up. As you run, make sure you're lifting your knees high. This will increase the pace of your stride, and contribute to proper posture.
Achieve liftoff with your toes. With each step you take, spring off the ground with your toes. This will propel you forward and make those hills a little easier to climb.
Do you avoid hills when running?