How to Save Calories at the Grocery Store
You're headed to the grocery store with a list in hand and a stack of reusable bags. You grab a cart and are ready to go to town, but if you buy the wrong things week after week, a little weight gain is sure to happen. Keep these calorie-saving tips in mind the next time you go grocery shopping.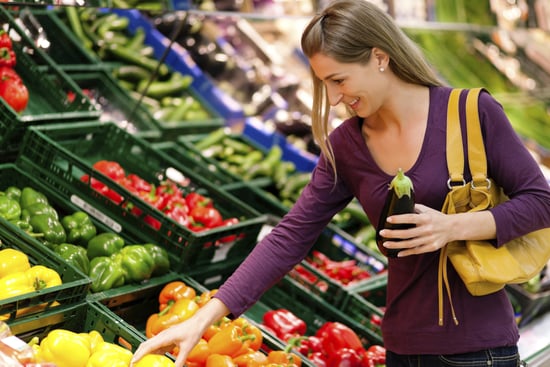 Never go hungry: You probably already know this, but never go grocery shopping on an empty stomach. Eat before you leave to satiate any temptation of buying unhealthy snacks. Not only will it prevent you from snacking while shopping — a surefire way to ingest the trillions of germs lurking on every item you reach for — but foods you don't normally buy are also less likely to make their way into your cart.
Start with a meal plan: Before heading to the store, map out in detail your meals and snacks for the entire week complete with a list of ingredients needed for all the recipes. It helps you remember everything in one trip so you can avoid having to hit the store later for that one thing, which inevitably means grabbing a few extra foods you don't really need. Here's an example of a weekly dinner menu complete with grocery list. You can do the same thing for breakfasts and the lunches you pack for work.
The health food store isn't necessarily healthier: While it's pretty awesome that you can find healthier versions of your favorite junk foods like organic cookies and Fair Trade chocolate peanut butter cups, don't be tricked into buying these health-food versions — they contain just as many calories as the conventional alternatives. Also remember that truly healthy foods can also be high in calories, so don't overdo it on the nuts and nut butters, avocados, energy bars, and dried fruit. Here are proper portion sizes of high-calorie healthy foods.
Avoid the center aisles: Most of the healthy, all-natural foods are found along the outer walls of a grocery store, and this is exactly what you should be filling your cart with. You should have more bagged produce, bulk foods like whole grains, lean meats, and low-fat dairy products in your cart rather than prepackaged foods. Check out even more tips for shopping the perimeter.
Make your life easier: Some healthy foods come with the prep work already done. If you can buy healthy foods that are easier to eat like cubed tofu, baby carrots, and prewashed and cut kale, then you're more likely to eat them.
Keep reading to hear more ways to save calories while grocery shopping.
DIY

health foods: Think of the foods you buy often and figure out a way to make them lower in calories. For example, instead of buying flavored oatmeal or fruity yogurt, buy plain and add your own fruit.
Don't buy beverages: Drinking water is one of the most effective ways to flush out your system, prevent constipation, hydrate your skin, and prevent you from getting sick. It's also calorie-free, so save your money and your waistline by forgoing the high-calorie beverages like sweetened juices and sodas. If water doesn't satisfy, buy herbal tea packets, fresh lemons, or seltzer.
Don't rush: Set aside at least an hour of stress-free shopping so you have the time to really read and compare labels, to choose the best-looking produce, and to run to another store in case the first one doesn't have all the healthy foods you need.
Do a little post-shopping prep: The best intentions won't help you lose weight, so if you throw that bag of broccoli in the crisper and it spoils before you remember to use it, how can it help you drop pounds? Once you arrive home with your bags of groceries, leave all the produce out and do a little prep work so it's easier to eat. Wash, cut, and store carrot and celery sticks and fruits for snacks, bag mixed veggies such as sliced peppers and mushrooms for dinners you have planned, and make a huge salad to keep in the fridge so you can quickly grab smaller bowls for work lunches or dinner.