How to Save Calories at Lunch
11 Lunchtime Hacks That Will Save You Calories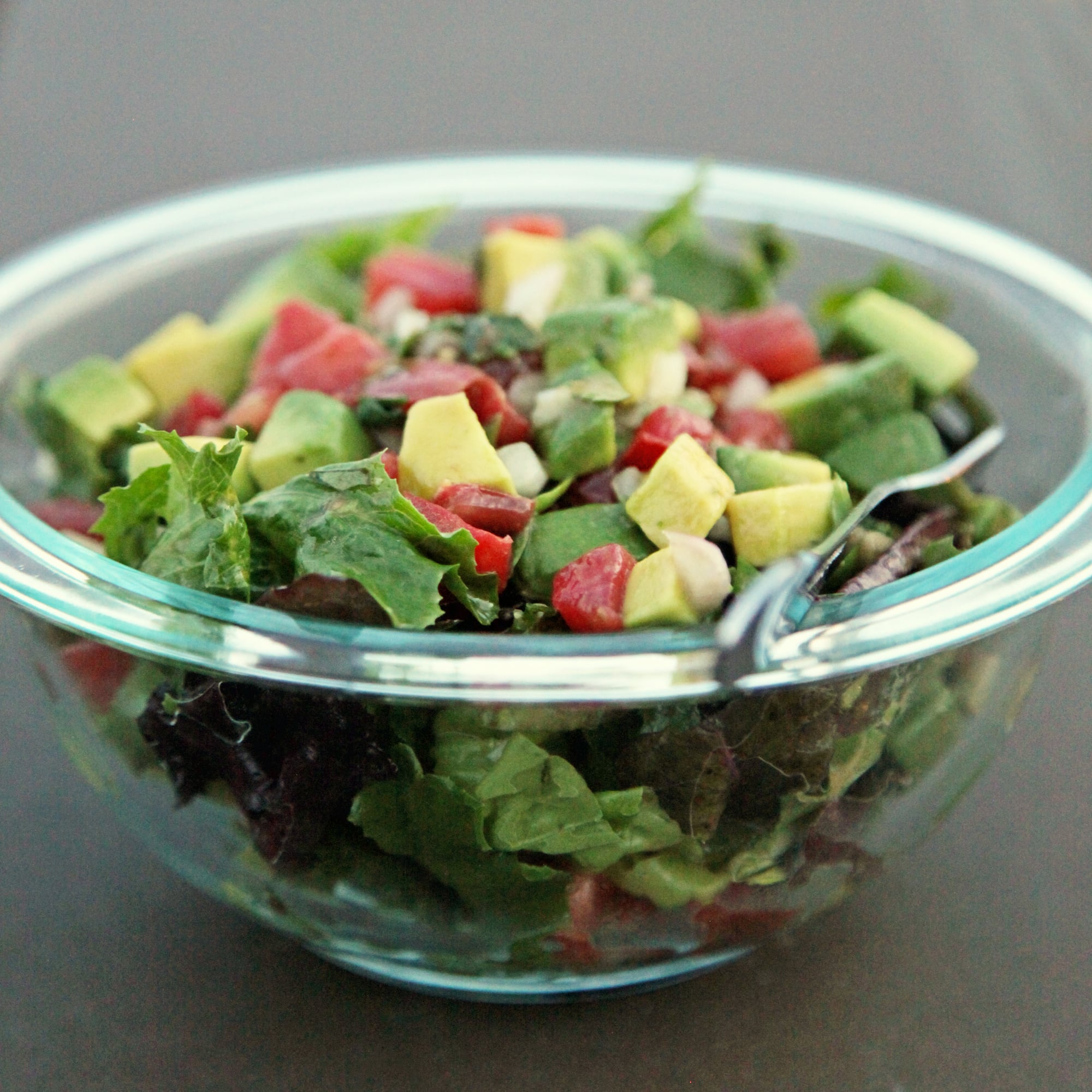 When lunchtime rolls around and hunger strikes, it can be tempting to go for the first meal that sounds good without thinking about the total calorie count. Whether you're heading to a nearby deli or packing your own lunch, there are so many easy swaps you can make to cut back on calories without skipping out on flavor. Follow these 11 hacks during lunchtime to save calories with little effort.
Ditch half the bread and go open-faced. Two pieces of bread make a sandwich more portable, but that extra slice isn't necessary and can add up to 100 calories to your lunch. Go with an open-faced sandwich, and fill it up with extra veggies.
Swap salad croutons for fresh herbs. You might add croutons to your salad without giving much thought, but to make your salad as healthy as possible, ditch the carb-heavy croutons and top with flavorful fresh herbs like parsley, basil, or mint. If you really like having a crunch in your salad, though, you can make easy roasted chickpeas and add them to a homemade or purchased salad.
Satisfy your creamy craving with avocado, not cheese. One slice of cheese can add 100 calories or more to your sandwich, so swapping with creamy avocado spread is a tasty no-brainer to save calories. Choose diced avocado over shredded cheese in a salad, and your taste buds won't even be missing a thing.
Always choose mustard over mayo. When it comes to choosing a condiment for your sandwich, mustard is a better choice than mayonnaise. One tablespoon of mayo contains 90 calories, while the same amount of mustard has only four calories.
Make your own salad dressing. Making your own salad dressing ensures you know exactly what's in it, and you can control the calories you're adding to your lunch. It's easy to make a batch that you can keep fresh in your fridge all week and take to work. Try making this delicious garlic Dijon vinaigrette or a spicy hummus salad dressing.
Even simpler: use lemon juice instead of dressing. Dressing can definitely be part of your healthy choices, but if you don't think you need dressing with your veggies, go for plain lemon juice. Lemon will enhance the flavor of your salad and add just a few calories — the juice of a whole lemon contains 17 calories, while one tablespoon of olive oil has 119.
Choose whole-wheat bread over a wrap. It can be hard to know whether to choose whole-wheat bread or a whole-wheat wrap, but calorie-wise, the bread is a better choice. One slice of whole-wheat bread typically clocks in at 69 calories, and a whole-wheat wrap usually has almost 200.
Choose stock-based soups over creamy ones. Broccoli cheddar soup or corn chowder are satisfying lunches on cold days, but choosing a stock-based soup over a cream-based one is a wise choice. Go for soups like minestrone and Spring vegetable that don't incorporate calorie-laden heavy cream, and you'll save 100 to 200 calories.
Ditch the carbs altogether and use lettuce as a wrap. The deliciousness of your sandwich lies between the bread, so why not skip the bread altogether and wrap the filling with lettuce? One leaf of iceberg lettuce has just one calorie, and antioxidant-packed romaine has just 15 calories per serving.
Choose fresh fruit over dried fruit. Dried cranberries and raisins are popular salad additions, but going fresh is a healthier calorie-saving option. Dried fruits are higher in calories and sugar, so next time you're building your own salad, go for fresh salad toppers like strawberries, blueberries, and grapes.
Pack your salad in a mason jar. OK, packing salad in a mason jar doesn't automatically make it lower in calories, but this lunchtime trend makes it easy to prep your lunch for the whole week, guaranteeing a healthy on-the-go option. Plus, the pretty presentation makes it easier to look forward to eating, right? Check out 25 recipes we love.
Image Source: POPSUGAR Photography / Nicole Perry