How to Save Calories on Restaurant Meals
Dining Smart: How to Save Calories on Your Main Course
The weekend is a good time to enjoy a leisurely dinner out, but if you're watching your weight, it can also be hard to navigate the menu. If you're looking to indulge but still want to make smart choices, read our tips for ordering your main course below.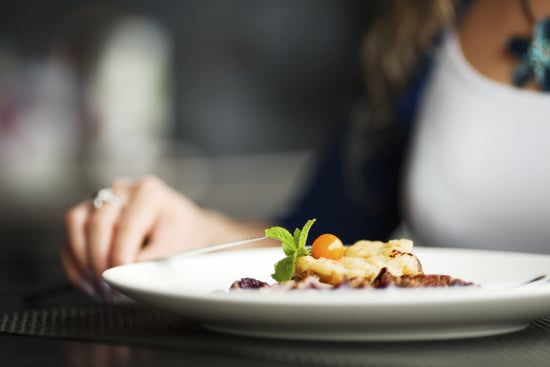 Fill up before: Grumbling stomachs make for a devil-may-care attitude when it comes to eating out. Don't show up at the restaurant starving; not only will you be more likely to order more food, but recent studies have found that you're also more likely to crave starchy carbs over healthier options when you've skipped a meal. Eating a healthy snack before you leave can help; if that's not possible, order a healthy appetizer like a salad or broth-based soup to sate your hunger. Read more of our tips on how to order healthy appetizers here.
Look for key words: If you're watching calories, you'll probably know that deep-fried potato skins are off limits. But other preparations can be almost as calorie-dense, so make sure you don't order something that's smothered in oil or butter. Skip the sautéed and go for steamed, and make sure to ask about sauce ingredients and request it be served on the side if you feel like it'll add too many calories.
Substitute with veggies: Choosing the right side can help you save hundreds of calories. It's a great option if you don't want to feel like you're missing out on ordering your favorite indulgent main course or the most decadent dessert. If the restaurant won't allow you to substitute, ask to have your side on a separate plate to share with your table.
Visual cues: Portions at restaurants often don't correspond to smart-sized portions. So if you think you'll be tempted to scrape your plate clean, cut the portions by sharing an entrée with your dinnermate or boxing up half the portion right away.
Want more strategies for saving calories while you dine? Read our tips on how to send yourself the "I'm full" signal here.