How Spices Help With Weight Loss
Wintry Reasons to Spice Your Meals
Adding spice to your meals has a seemingly endless list of nutritional benefits. Speeding up metabolism, combating hunger, and increasing the taste of your meals are just a few of the miracles these dry powders offer, and even more benefits can rise from spicing your food in the colder months. Read on to learn why you should lend a heavy hand to spicing this season, and reap the rewards.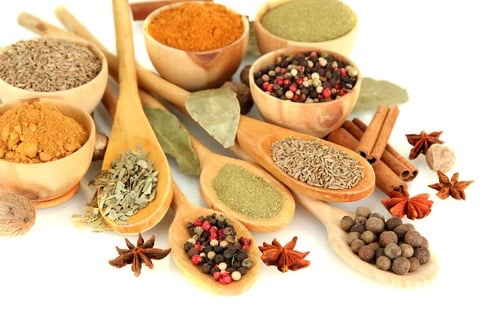 Spices create fullness: Tastier food is more satisfying, and if you're not satisfied, then you're more likely to overeat. Try adding spices to recipes that you already make. If you want to veer away from the icky green hue of lentil soup, then add turmeric to opt for a slightly more yellow one. If you want to add a kick to your bland chicken recipe, then do it with cayenne pepper. This spice is equal parts healthy and spicy.
Less is more: Spicing your food adds natural flavor, which decreases the amount of fat and sodium you need to make meals feel hearty and heartwarming. In fact, a recent study found that antioxidant-rich spices like cinnamon, paprika, and cloves can actually reduce the negative effects of meals high in fat.
It curbs cravings: According to Kate Geagan, MS, RD, author of Go Green, Get Lean, herbs and spices can play tricks on your sweet tooth. "Using herbs and spices expands your palette without extra calories and may decrease the amount of salt, fat, and sugar you use without sacrificing flavor," Geagan told WebMD. Try swapping cinnamon for sugar in your next cup of joe, and see if your candy cravings start to diminish.