How to Spring Clean Fitness Gear
Spring Clean Your Fitness With These Tips
It's almost time to Spring clean, which means dusting off, editing, and organizing every aspect of your life. What you wear and use during your workout is no different; here are three tips for Spring cleaning your fitness.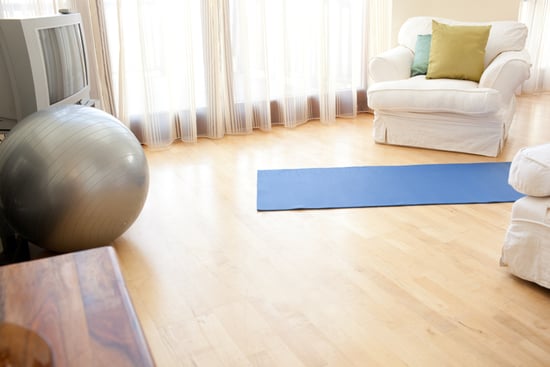 Inspect your gear: You may never give up that old college T-shirt, no matter how threadbare it gets, but there comes a time when you need to retire old workout gear. Go through all of your gear, from wicking headbands to running shoes, and get rid of clothes that aren't doing it for you. Stretched-out sports bras and pants, too-thin socks, or smelly shirts should be retired. Invest in a few new pieces for Spring to enhance your current collection, and be strategic about the old stuff: once you get a new pair of running shoes, save the old pair for rainy runs or around-town errands and make sure to donate anything that's still usable.
Clean your equipment: Whether you have a stellar home gym or just a few dumbbells and a yoga mat, chances are some of your equipment may be due for a clean. Luckily, a safe, effective, and great-smelling cleaner is just a few minutes of DIY away. This yoga mat cleaner, just a mixture of water and a few drops of tea tree and lavender or peppermint oils, is a safe, nontoxic way to kill germs on anything from your yoga mat to your dumbbells.
Organize well: Once you've cleaned and edited your workout wardrobe, it's time to organize all of your gear. Keep your workout clothes somewhere easily accessible: this will help save time when you're putting together your gym bag. Bonus if you can store them somewhere where you can see them — when you're greeted with cheery workout clothes every time you open your closet, you may be less tempted to skip a workout!