How the Stars Get in Shape For the Emmy Awards
Trainer Jarett Del Bene's Celeb Emmy Workout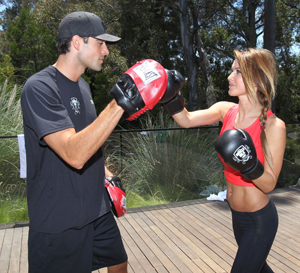 With the Emmy Awards this weekend, Hollywood is stepping up its game to ensure nothing but fab moments happen on the red carpet. There's makeup and hair to tend to; and, of course, finding the right dress! But weeks before the Emmys is even underway, Jarett Del Bene tells Us Weekly, celebs start getting serious about their fitness routine. Here's how Jarett preps his clients, which include Lauren Conrad, Lindsay Lohan, and Nina Dobrev, to look their best before heading down the red carpet.
Up the cardio. Typically, Jarett has his clients work out three days a week, doing an hour of cardio each time. But during the awards season he increases their workout by one to two additional hours of cardio each week.
Vary the workout. If you want to get fast results, Jarett says you have to "shock the body" by changing up your fitness routine. When he is prepping a client for an event, he makes sure her cardio workouts vary through the week: "One day we'll do a kickboxing session, the next day we'll go running or for a hike in the hills, and then the next day we'll do some biometric training, like jump squats, box jumps, agility drills with cones."
Reduce carbs. If you're crunched for time, Jarett suggests going on a low-carb diet. To prep for an awards show, Jarett puts his celeb clients on a 1,500 calorie diet. They eat the heaviest carbs in the morning, a shake for lunch, and fish, veggies, and brown rice for dinner. They also have a snack during the day, which is typically a piece of fruit.