How to Start a Bike Commute
5 Solutions to Beginner Bike Commuting Problems
That fact that it's National Bike Month and the warmer Spring days may mean you have cycling on the brain. Whether you're participating in Bike to Work Day or you're starting a commuting routine, here are some solutions to your newbie concerns.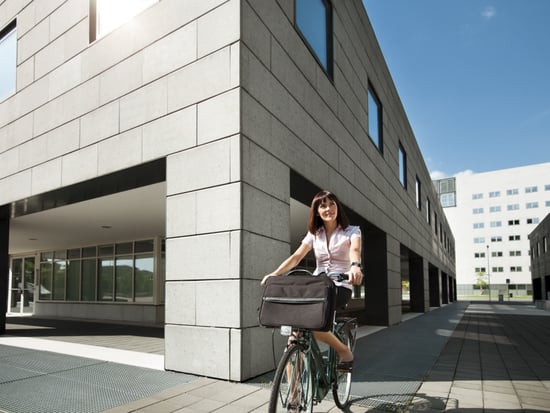 I don't know my route: Finding a bike-friendly route is especially crucial if you're a cycling newbie, so before your actual commute, find out how the cyclists in your area do it, plan or map your route and test-ride it when the roads are not so busy. Keep in mind, the best (and safest) cycling route is not always the same way you get there when driving or on the bus. Read more about how to plan and prepare for your bike commute here.
I don't know what gear I need: Commuting by bike demands that attention is paid to what you're wearing and carrying. You know that a helmet is a necessity, so here are a few cute and functional bike helmets made for just women. But there's more; find out exactly which five essentials you need if you're bike commuting here.
See more tips on bike commuting after the break!
I don't know how fast to go: Cycling pace is important; for one, you don't want to arrive drenched in sweat, but more importantly, you don't want to strain your knee joints. Your pace will be determined by many factors, but it helps to know how fast you should be pedaling. Your RPM, or the rate that your wheels rotate per minute, should stay around 80 RPM. Learn how to calculate your RPM for safe riding here.
I don't know how to lock my bike: Your office building may have a bike room for safe storage, but if not, make sure you know how to properly lock your bike. U-locks work best since they're harder to cut, and always make sure that the item you're locking your bike to is securely bolted to the ground. Learn the best way to lock up your bike here.
I'm worried about how I'll look: If you're worried about what your bike commute may do to your put-together office style, make sure you carry basics with you that can help combat sweat or helmet hair, like face wipes, dry shampoo, and deodorant. All you need is just a few minutes after your commute to regroup and arrive at your desk feeling fresh-faced and ready to work. A cycling-friendly wardrobe can also help; here are a few stylish options for your bike commute.