How to Start a Raw Food Diet
4 Tips to Know Before Going Raw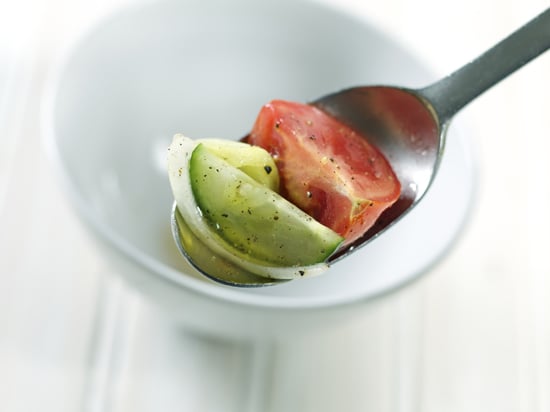 If you're testing the raw-food waters, then there's no better time to try than the Summer. With markets booming and blooming with fresh produce, there isn't as much need for cooking to reap nature's benefits. But even if you love chowing down on raw fruits and veggies as a snack, taking on a raw food diet is a big shift in lifestyle. Thinking of taking the raw plunge? Here are some things to consider before you dive in head first.
Do your research: At this point, you probably know the basics. A raw food diet consists of consuming unprocessed, uncooked, and organic foods. And just as the name suggests, at least 75 percent of the food should be uncooked, and the other 25 percent can't be heated above 116° F. The reason? Raw foodies believe higher temps destroy valuable enzymes that help our bodies digest and absorb food. While this alone may have you hooked, you've got to do your research. Take a look at your medical history, talk to your doctor, and make sure this plan is suited for all your nutritional needs.
Try it out: If you love raw fruits and veggies, then a raw food diet may sound like a dream, but there's no harm in easing into the plan before fully committing. There are plenty of delicious raw recipes for beginners that will help you get creative in the kitchen. Want to try it out for a full day? Try our menu for a day's worth of raw-food meals to see if it's your speed.
Keep reading for two more things to know before you go raw.
Get the right equipment: There are a couple kitchen staples you're going to need: a quality dehydrator and a juicer. You certainly don't need to invest in these things right off the bat if you're just dabbling in the diet, but for someone who is making the commitment, these tools will be your new best friends.
Find community: Chances are that your friends haven't all taken on a raw lifestyle. And like with any other big endeavor, finding friends with the inside scoop or regional tips can make the shift a whole lot easier. Who knows? You may even get some inventive recipe shares or recommendations for the most delicious raw restaurants in your area.
Have you gone raw and reaped the benefits? Tell us about it below!