How to Start Running: Couch to 5K
Many of you listed starting running as a goal for 2010. A noble goal for sure, but having a little outside structure helps.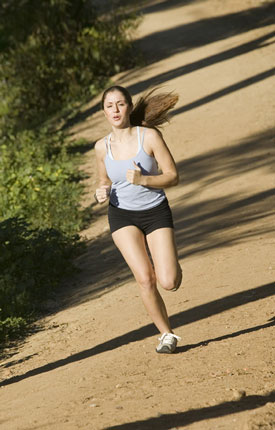 After lacing your sneakers, check out the Couch to 5K running schedule over at Cool Running. Having a schedule not only makes you accountable, but it might save you from overdoing it and giving up your goal due to post-workout pain.
The Couch to 5K plan eases you into running three miles by combining intervals of running with walking. Over the course of eight weeks, you condition your cardiovascular system and your legs while slowly increasing your running time, eventually running for 30 minutes straight, which is about the time it takes to run a 5K. It is a great way to start running, and the schedule has you running only three times a week, making it easy to fit into a busy life. The workouts are listed by both distance and time, so you can use it on a treadmill by adjusting the speed up and down.
Check it out and try the program. Chances are you will get hooked on running. My only caution is 5Ks are considered a "gateway" race to marathons and triathlons.