How to Start Trail Running
What You Need to Know Before You Go Trail Running
If sunny days have inspired you to move your run outdoors, why not step it up even more and hit the trails instead of the sidewalk? Before you go, here's what you should know about how to start trail running.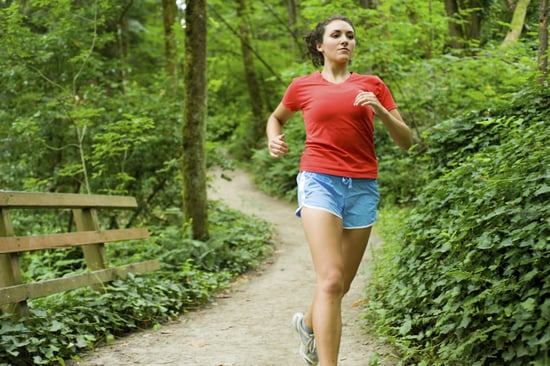 When starting: You can't just make the leap from a flat, paved course to a rocky, uphill climb without a few guidelines. First, start slow, and adjust your stride to pick up your feet higher, which helps avoid tripping. Also, remind yourself that it's OK to stop, walk, or turn around if things get too rocky or steep. Find out more important beginning trail running tips here.
Be safe: Trail running can be fun and relaxing, but there are a few things you need to watch for. Running alone can have its own set of possible dangers, for one, so make sure you leave a plan with a loved one of where you're going and how long you expect to be gone. And once you're on the trail, keep your gaze focused ahead of you as you run so you avoid slippery leaves, jagged rocks, or branches that can trip you. Read more tips on staying safe during your trail run here.
The right gear: It's all about protecting yourself from the elements. Make sure you wear sunscreen, a hat, and sunglasses to shield yourself from UV rays and invest in a pair of shoes made for the elements. Check out our picks for waterproof trail running shoes here, and learn more about the safest sunscreens to protect your skin here.
Once you've hit your stride and settled into running trails confidently, you'll be rewarded with toned legs and melting fat! Try these hill repeats to start.