How to Start a Yoga Practice
A Beginner's Guide to Starting a Yoga Practice
With all the new student specials currently being offered around the country, National Yoga Month is a great time to try yoga. But the fact that there can be much to learn when it comes to the practice can make starting out feel daunting. If you're interested in starting a yoga practice but don't know where to begin, here are a few tips for yoga newbies.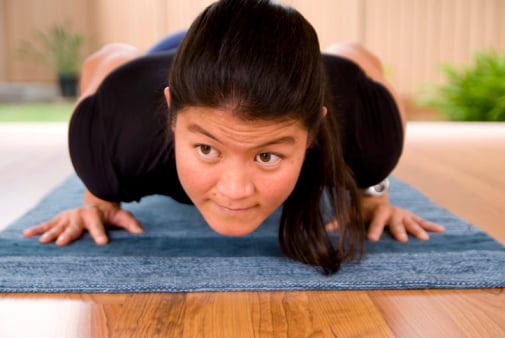 Choose your practice: Between the levels, the Sanskrit, and all the different types of classes offered, speaking yoga can be a daunting task for a newbie. The first step in your practice is figuring out the type of class that's right for you. Here's a list of types of yoga by personality; choose a few that interest you and try them out at your local yoga studios until you find a class and teacher that you like.
The essential poses: You'll learn all the basics in your new classes, but if you find yourself constantly confusing your Warrior 1s with your Warrior 2s, brush up on your knowledge with our gallery of essential yoga poses and how to do them.
The perfect mat: You pick up an inexpensive mat on the fly, but if you've decided to make yoga a regular part of your workout routine, you may want to invest in a better-quality yoga mat. A pricier mat can make your practice safer, more comfortable, and more eco-friendly; read more reasons to invest in a yoga mat here.
Keep reading for more beginner yoga tips.
Best behavior: The regulars at the studio have their pre- and postclass rhythm down, and it can seem like there's an unwritten code when it comes to how to act before, during, and after class. While many are common sense — like talking quietly if you're waiting for class and remembering to show up on time — it can help to remember these essential yoga etiquette tips, especially if you're new to the practice.
Injury-free: With regular practice, yoga helps improve your body's flexibility, but you still need to know your limits. Pushing yourself too far too fast can, like any sport, lead to injury. Don't just rely on your teacher's guidance to figure out if you should try to hold a pose; if you feel pain or discomfort, stop or modify as necessary. Read more important tips for preventing injury in yoga here.
For more in-the-know yoga tips, check out our guides on what to expect in a Bikram yoga class and what to expect in an Ashtanga class. You'll also want to check out our 10 essential tips for a yoga newbie.