How to Start: Your First Pilates Mat Class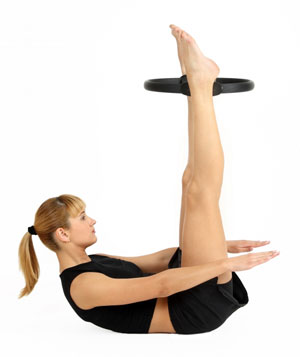 I am a firm believer that Pilates makes for great cross training and that it makes everything better — from running to yoga, from cycling to sex. Nothing like a little lumbar spine mobility coupled with strengthening your pelvic floor to ramp up your sex life (and more than a few of you have resolved to "have more sex" in the new year, so why not make it better too?).
Now that I have captured your attention, let me tell you that a mat class is the simplest and cheapest way to learn Pilates. You have the benefit of a live instructor, unlike a DVD, and it is considerably less expensive than a private session. If you have never taken Pilates, here are a few things to help you through your first mat class.
Arrive to class a little early and introduce yourself to the teacher. Let the instructor know if you have any injuries or concerns. Then grab a mat, stake out a spot where you will be able to see the teacher, and get ready to have some fun.
Wear clothes that are tight enough that the instructor can see your body, but that you can still move in. Leggings and a fitted cotton tank are a great options. Also, classes are sans shoes, but you can wear socks if having bare feet freaks you out.
The classes are generally 55 minutes to an hour, and you don't need to bring a mat. The studio or gym will provide those. Pilates mats are generally thicker than yoga mats since some Pilates moves involve rolling on your spine.
For a few more tips, just
.
A mat class will work your entire body, but most of the exercises have you either seated or lying on the floor. The beginning of the class should focus on engaging your deep abs in neutral spine as well as with a rounded back. In a classic mat class, the killer abdominal exercise the 100s is the first exercise. If you are taking a beginner class, you will work up to this move.
Aside from a serious focus on ab work, traditional Pilates mat work includes a series of exercises to work the inner and outer thighs, as well as a series to strengthen the back, hamstrings, and glutes. Many classes end with a stretching series that includes exercises like the mermaid and the saw.
You might use some fun props during the class. Don't be surprised if you start out on a foam roller, or squeeze a magic circle or small ball with your inner thighs.
If you are looking for a Pilates studio or instructor, the Balanced Body website has a great studio locator, so you should be able to find a class near you. Still not ready to venture into a class? Then check out our reviews of Pilates DVDs.