How to Stay Fit While Traveling
Keep an Exercise Routine, Even When Visiting the In-Laws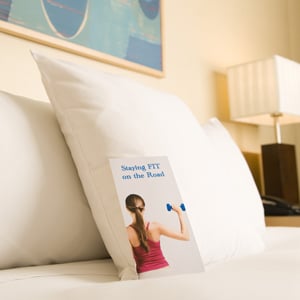 Even though it may be hard to stick to a normal fitness routine when traveling this holiday, you don't have to give up on all your fitness goals. If you find yourself away from home (your gym, running path, or yoga studio) over the next few weeks, use these helpful tips to ensure you'll be active well into the new year.
Pack your gym bag. Pack workout clothing in your suitcase, and you'll have no excuse not to exercise. Traveling with workout clothing also acts as a visual reminder to stay fit, which can motivate you to exercise even when away from home.
Carry a workout on you. Depending on where you're staying, it may be hard to find a gym, and depending on the weather, exercising outdoors may not be an option — always bring a workout that you can do indoors. Good options that are easy to pack are a jump rope, fitness DVDs, or one of our printable home circuit workouts — I always pack resistance bands. If you forget, hit up the local library or video store and borrow a fitness DVD instead.
I have couple more suggestions, so keep reading.
Get a visitor or day pass at a nearby gym or yoga studio. My boyfriend travels for business often, and before he leaves he always susses out the gym scene where he'll be staying. Many gyms offer weekly guests passes at no charge, which he takes advantage of. If you're unable to get a free pass, most gyms offer inexpensive day or week passes for use of their facilities. Also, most yoga, PIlates, and barre studios have a drop-in rate if you only want to take a few classes. Find deals at fitness studios by looking at collective buying websites like PopSugar's Fresh Guide, Groupon, or LivingSocial in the city where you're staying.

If all else fails, get inventive. If you forget to bring workout gear with you, find creative ways to remain active. Go for a long walk with your family — especially after the big meal — or do some cardio that requires no equipment in your bedroom — yoga is a great option too. Use water bottles or books as weights, or do some chair squats at the dining room table.
Did I miss anything? Share your tips on staying active when away from home in the comments section below.