How to Stay Healthy at College
The 12 Healthy Tips We Wish We Knew in College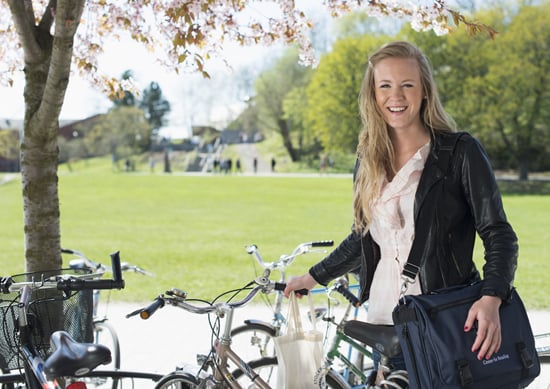 During the back-to-school season, it's hard not to pine for my college years. But now that I'm a little older and wiser, there are plenty of tips I wish I had under my belt before my first year away from home. In the spirit of all things college, I reached out across the POPSUGAR Network and asked our editors about the most helpful health advice they learned when they were students. If you're heading off to school, take these tips to heart. Trust me, your body will thank you later.
Use those legs: Even if it means leaving extra time to trek or bundling up, walk or bike across campus whenever possible. It's one of the easiest ways to burn extra calories and get your heart rate up when your schedule is stacked with classes all day long. And once you're inside tall buildings, skip the elevators and take the stairs!
Ditch the soda: Think that Coke is your friend? Guess again. This sugary beverage is one of the few "foods" in the world that offers zero nutritional content, including diet options. Once you finish sipping away on your can, you'll crash just a few hours later and feel even more drained than when you started. Instead of soda, hydrate your body with water. POPSUGAR Entertainment's Maggie Pehanick does offer a tip to save you some embarrassment when you're gulping down good old H2O: "Make sure your study spot is within walking distance of the ladies' room." This way you won't have to run around the library like a mad woman.
Take an active class: You might be surprised to learn that many colleges offer physical education classes for credit. POPSUGAR Entertainment's Ryan Roschke said that the conditioning P.E. class he took his senior year was "an easy way to get an A, and also an easy way to make sure I worked out at least twice a week."
Don't skip meals: When your day is stacked with back-to-back classes and activities, you still have to make time to eat. Wake up a little early to start the day with breakfast; it fuels your brain and makes sure your metabolism is working in your favor. If you skip a meal, you'll be more likely to overeat later or chow down on whatever is in sight — like nasty junk food from the vending machines.
Sleep: Sure, you're going to be out partying, but there is nothing more important in college than a good night's sleep. Taking ample time for rest allows your body to recharge and reboot. POPSUGAR Fashion's Robert Khederian credits his seven hours of sleep a night to how he "escaped the swine flu even though my roommate and suite mate both got it." Being sick at college is the worst, so do whatever you can to make sure you're back on your feet sooner rather than later.
Use your resources: Work out in the campus gym, try out fun classes, and run laps around your stadium. Never again will you have so much free time to work out in beautiful free facilities!
Keep reading for six more tips from our editors!
Be smart about booze: Alcohol — especially cheap beer — does have calories, and it's one of the biggest culprits behind the dreaded freshman-year weight gain. Spending just a dollar or two more on quality alcohol is worth it. Especially since it can help you beat a hangover.
Join club sports: Even if you're not a collegiate athlete, nearly every school offers some form of a club sports program. These groups are a fabulous way to stay fit, keep up your favorite activities from high school, and meet new people outside of the dorms.
Study while you work out: In the middle of midterm or final season, getting to the gym is essential. It amps up your endorphins, offers a natural source of energy, and gives you a break from the packed library. When you're busy with work, POPSUGAR Tech's Nicole Nguyen recommends multitasking at the gym. She says, "The elliptical and stationary bike are perfect for reviewing flashcards or getting some required reading done!" No need to feel guilty that you're missing out on precious study time.
Plan active dates: Your new friends might want to do dinner and drinks to get to know each other, but suggest more active date ideas. Go for a long walk, explore a new part of town, or hit up a new fitness class on campus. Not only will this help you stay healthy, it will help you save money.
Get out of the dorm: Hopefully you won't have a similar situation to POPSUGAR Fashion's Mandi Villa, but if you're having a hard time with your roommate, and you're both home, get some space and go to the gym. Mandi credits her "psycho" roommate for her "six-day-a-week gym routine" in college. Way to find something positive in a tough situation!
Don't give up: When you see all your friends in the dorm chowing down, overindulging in alcohol, and skipping workouts, you don't have to follow suit. Just because everyone else has decided the freshman 15 is inevitable doesn't mean you have to agree.
Do you have a tip to add to this list? Share it below!