How to Stay Healthy and Energized on Black Friday
In Sex and the City, Carrie Bradshaw once said: "Shopping is my cardio." She obviously wasn't talking about Black Friday, which is more like a contact sport. As retail stores kick off the holiday season with crazy sales (some that start as early as 4 a.m.!), we have tips on keeping your body happy and healthy while you're in the depths of shopping madness.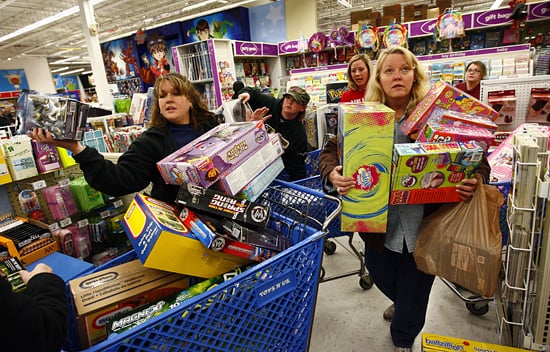 Be kind to your feet. You may not be the type to wear your running shoes when not exercising, but trick yourself into thinking that Black Friday is a workout. Just like on the treadmill, you want your feet to be as comfy and supported as possible — you may be on them for hours, after all!
Don't lock your knees. When standing in line, keep your knees slightly bent. Also, avoid shifting your weight from one leg to the other and jutting your hip out; this can throw your back out of alignment and cause pain.
Drop off heavy loads. As you start to load up on bags, your arms and shoulders will start to take a beating, which is bad for your back, too. Make a point to regularly drop your bags off at the car.
Fuel up. Make sure to stay hydrated with water and pack yourself some healthy snacks. If you have to eat at the mall, go for these healthy food court options. Staying hydrated and eating properly will give you the energy to make it though the day.
Rest and stretch. If your back or feet start to hurt, take a moment to rest. Also find a spot to squat down and stretch. It feels great in your lower back.
Set a time limit. While a good sale is hard to pass up, set a time limit on shopping. Schedule a late afternoon yoga class to stretch out and relax after surviving the busiest shopping day of the year.