How to Stay Healthy at Weddings
Be Our Guest: Your Healthy Wedding Season Survival Guide
With wedding season in full swing, many folks face the good fortune of attending back-to-back celebrations weekend after weekend. In the midst of all the wedding fun, healthy plans often get pushed aside. The following tips will keep you connected to your goals — even in the face of gorgeous wedding cakes and tasty canapés!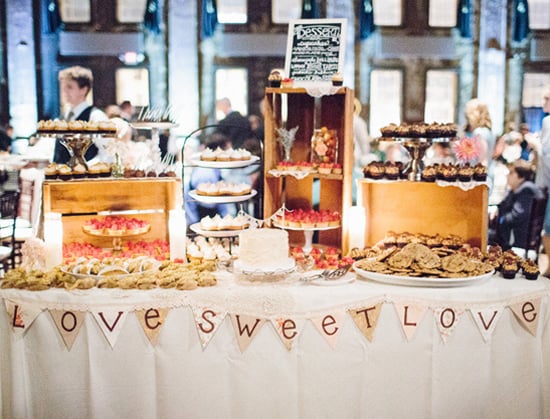 Plan Ahead
Going into a wedding weekend with a game plan can help keep you on track. Whether you decide to cut out unnecessary snacking, only have a small slice of cake, or steer clear of sugary drinks, making thoughtful choices before you walk into the party will take out any guesswork. This way you can focus on having fun instead of what you should (or shouldn't) eat next.
Wake Up to Work Out
During all the festivities of the weekend, finding a time to work out in the middle of the day doesn't always happen. Make a point to wake up early, and find a fun workout you'll be excited to try. Hit up a local yoga or barre class, head to your hotel gym, or just go for a run. However you exercise in the morning, you'll feel more energized all day and be able to afford a little extra indulgence without any added guilt.
Keep reading for more helpful wedding season tips.
Back Off the Booze
You don't have to completely give up alcohol if you're trying to lose weight, but all those glasses of champagne add up. While it's a lower-calorie choice than a standard mixed drink, one glass is 91 calories. It's fine to celebrate with a tipple or two, just be sure to stop before you get ahead of yourself. If you have too many drinks, your inhibitions will be lowered, and you'll be more likely to overindulge in a way you wouldn't if sober.
Start Moving
There's no reason to stay seated and sedentary during wedding celebrations. Grab a friend and do some laps around the reception hall or simply hit the dance floor! The more you make movement part of your weekend, the less you'll have to stress about fitting in an extra workout come Monday.
Don't Offer TMI About Your Diet
Being open with friends and family is necessary to stay committed to a healthy lifestyle, but it shouldn't take over all the conversations of the weekend. If you're really worried about falling off the wagon, ask a close friend (or two) to keep an eye on you. This way if you start to go overboard, someone you trust can step in. Everyone is there to celebrate your loved ones, so focus on keeping things light and fun. Instead of asking others for advice when things feel rough, turn inward for strength when temptations arise.