How to Stay Warm While Running Outdoors
How to Stay Warm During Morning Runs, Minus the Sweat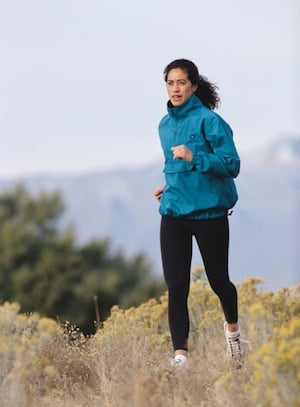 So long sweltering Summer, and hello crisp, cool Fall! I find that the drop in temperature this time of year inspires me to get back on track with my morning runs. Problem is, seasonal weather changes can make it tricky to dress appropriately. For a smooth transition to Fall, here are some gear tips to keep you dressed for running success.
Dress like it's 20 degrees warmer. The actual temperature when you start your run is going to feel quite warmer once your heart rate rises, which is why it's important to factor in an extra 20 degrees. This way you'll never overdress. And you can always use this handy tool on Runner's World's site, which tells you the right running clothes to wear for the current weather conditions in your city.
Layer up. Layering is key during the Fall season. You don't want to be freezing as soon as you start your run, so wearing the proper clothes will prevent this. As soon as you start heating up, you can undo zippers, roll up sleeves, or tie your windbreaker around your waist (I like fairly fitted ones so they aren't a pain to keep tied on my hips).
Find out what factor is most important.
Fabric is key. Typically, on a cool Fall morning, you want to wear a thin synthetic-breathable moisture-wicking shirt like Nike's Fast Pace Running Shirt ($30), which acts as your base layer. Then add an insulating layer. Preferably something like the Arc'teryx Phase SV Hoodie ($79), which offers specially designed fabric that wicks moisture and keeps you cool during high-output activity. For additional warmth on cold days, you can also try a polar fleece shirt. The top layer should be a water-resistant and lightweight jacket like this Running Jacket by Brooks ($70). And for your pants, you'll need some lightly insulated running pants like these REI Airflyte Basic Tights ($45). Definitely steer clear of cotton for any layer; it holds in moisture and sweat and will therefore keep you wet and make you feel chilly.