How to Stick With Eating Right and Exercising
Too Busy? Starting With Exercise Over Diet May Help You Lose Weight
It's common sense that losing weight includes a combination of healthier diet and exercise habits, but if you are pressed for time, which should you focus on first — sticking to your workouts, or planning out healthy meals? A new study in the Annals of Behavioral Medicine found that, while doing both at the same time is best, you may also see results if you start with exercise first.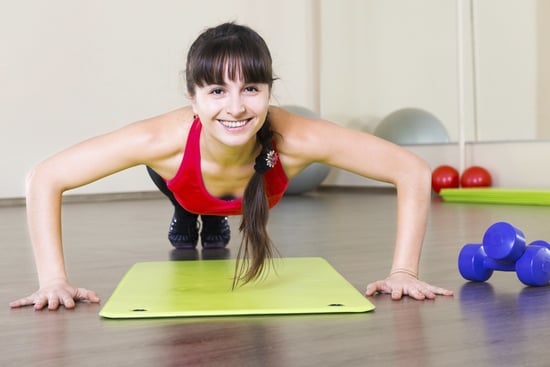 The study followed 200 inactive men and women 45 years and older who also had poor diets. The participants were divided into four groups: those who started new diet and exercise habits at the same time, those who started exercise first and changed diet habits a few months later, those who changed their diet first and started exercising later, and those who didn't change their diet and exercise habits at all. The four groups were tracked and coached for a year.
The authors found that those who changed their diet and exercise habits at the same time were better at meeting the US exercise guideline minimum of 150 minutes a week as well as eating more fruits and vegetables and less saturated fat. The group who changed exercise habits first was able to stick to their healthier diet and exercise habits almost as well as the dieting and exercise group, but the group who changed their diet first failed to meet their exercise goals.
The study's lead author, Dr. Abby King, says that the exercise-first group could have had more success than the diet-first group because finding time to exercise can be harder than learning to substitute healthier foods when you eat. "With dietary habits, you have no choice; you have to eat," King says. "You don't have to find extra time to eat because it's already in your schedule. So the focus is more on substituting the right kinds of food to eat." Since the exercise-first group had already learned the harder habit, changing their diets after that may have been easier for them to do.
The key to losing weight is about sticking with healthy habits and establishing a routine, so this new study is a great reminder that small changes, like fitting in exercise even if you aren't changing your diet, can lead to something big, like improved health and weight loss. Ready to start? Here are some quick and easy workouts to add to your week: