How to Stick to Long-Distance Runs
Mental Distractions to Help Get You Through Long-Distance Runs
If you're training for a marathon, there's no getting around days when you need to tackle longer distances. A 30- or even 60-minute run is totally doable, but how do you stay motivated when running two or more hours? Your body has built up the strength and endurance, so you know you can physically do it, but what do you do when the chatter in your mind is constantly telling your legs to stop? Beat the mind games with these mental distractions.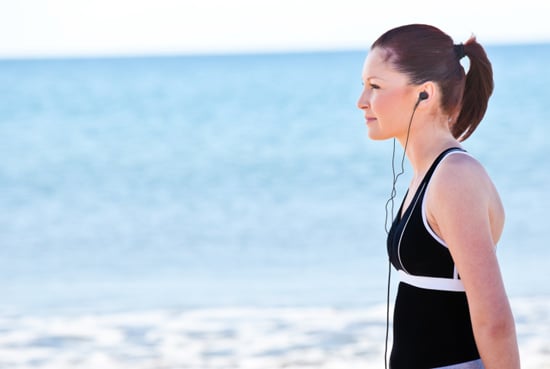 Keep track: Whether using a heart-rate monitor or a running app, keeping track of your mileage is a wonderful distraction because it encourages you to conquer the big goal by focusing on the smaller ones.
Storytime: You know how you can just get lost in a good book? Audiobooks are a lifesaver for runners. Choose an old favorite or a new release and you'll get so wrapped up in the saga, you won't want to stop running.
Make a dedication: It's something we often do at the beginning of a yoga class but is also a nice practice to get into when tackling a long run. Before taking your first step, take a few moments to close your eyes and mentally dedicate your run to someone who's living or no longer with us. Every time you feel like stopping, think about that one person and it'll inspire you to keep going.
Keep reading for more ways to distract your mind on long-distance runs.
Out and back: Running a 22-mile race seems daunting at first, especially when you feel like you're running and running with no sight of the end in near. Find a route that's half the distance, run there, and then turn around and run back. Make mental notes along the way at every mile so when you're running the second half, you'll have visual reminders of how close you're getting to the end.
Be moved by music: The power of your favorite tunes is one way to keep from getting bored. Take some time on a Sunday afternoon to make a kick-butt two-hour playlist of your fave tunes for your next 12-mile mile. Or download a new album or two and you'll have something to look forward to that'll keep your mind engaged.
Chitchat: Running with a buddy is an excellent way to pass the time. Make sure you're with someone you're open with so the conversation keeps flowing. From your annoying boss to the party you're planning for your sister, there's no shortage of things to talk about when running with a friend.
Lights, camera, action: If you're bound to a treadmill for a long-distance run, defeat boredom with a movie. Download one to your iPad and two hours will fly by like that.