How to Stick to a Workout in Winter
Get Off the Couch! 5 Ways to Recommit to Your Workout This Winter
Summer days are meant for active outdoor adventures, but when the days turn short and the weather chilly, you can be excused for wanting to curl up on the couch with a mug of tea rather than work up a sweat. But maintaining a fitness routine is especially important during the season of comfort foods and nonstop holiday parties. If your workout routine has seen better days, here are five ways to recommit to your workout.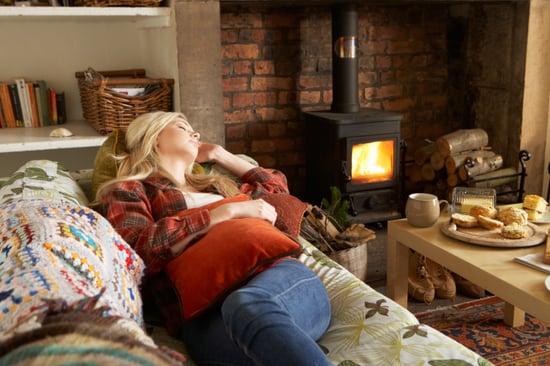 Dress the part: If your workout includes a pre- or post-work gym stop, then you'll be more motivated to stick with your plans if you dress in comfy, easily changeable Winter clothes. Wear boots with zippers, comfy trousers, or thick tights so getting your street clothes on and off isn't a battle. If the thought of putting on a thick wooly sweater after a sweaty workout has you discouraged, then wear a sweat-wicking top that doubles as a work one either underneath or in lieu of it. These gym clothes you can wear to work are stylish enough for the office — and wearing them helps you encourage yourself to make it to the gym.
Go in the morning: It's freezing and dark outside after work, so it's no wonder you've been convincing yourself to seek refuge at home instead of braving the elements. But if your reluctance to work out at night has turned your workout routine from regular to nonexistent, then now's the time to switch your evening workout to the morning. The sunlight and fresh air will wake you up, and taking advantage of the early-morning daylight will help motivate you to stick to your routine.
Get the right gear: If the thought of exercising outside this Winter gives you a chill straight to your bones, then remember this: the right gear helps make outdoor workouts comfortable and fun. For tips on what to buy and how to dress so you're warm at the start of your workout but not overheated as your heart rate rises, read our tips on what to wear during cold-weather runs.
Read on for more tips!
Make a date: Dealing with dark evening gym trips and freezing outdoor runs is much more bearable with a good workout buddy to take your mind off Winter's demotivating aspects. Sign up for a gym or studio class with a friend, or make standing plans for a run so you'll be encouraged to stick with your weekly workout goals.
Have a DVD swap: If working out at the gym or outside is just not for you, then use your living room time wisely. Instead of succumbing to sedentary urges, revamp your home workout by swapping your old fitness DVDs with some friends. The new-to-you selection will make you excited to work out instead of flipping channels while on your couch. You can also try our Class FitSugar workout videos; each is only 10 minutes and will make you feel energized!