How to Store and Cook With Pureed Vegetables
Weight-Loss Tactic: How to Sneak Pureed Veggies Into Every Meal
Not everyone loves to eat their veggies. If you're having a hard time stomaching a huge salad or a side of sauteed kale, it doesn't mean you can't reap the benefits of this nutritious food group — you just have to get a little creative and trick your taste buds.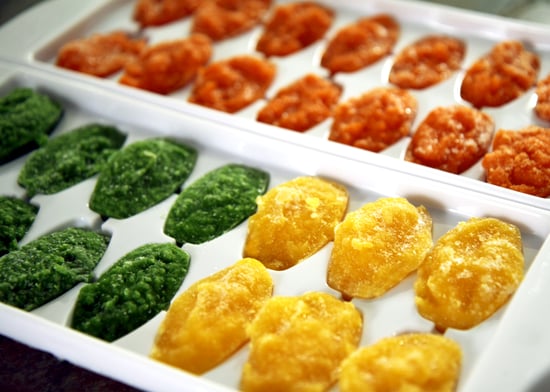 If you have a baby in your life, then you're already familiar with their little jars of pureed food. While we're not recommending you stock up on jars of baby food, pureed veggies are an easy way to sneak produce into your diet. Mixed in with your favorite recipes, you'll hardly be able to taste them. Puree veggies to use them right away, or store them in an airtight container in the fridge for a few days. You can also make a larger batch of puree veggies and freeze one-ounce portions in BPA-free ice cube trays to use for later.
Check out the list below to see which vegetables puree well, which freeze well, and how they can be used.
Veggie
Storage
Use
Broccoli, raw or steamed
Fridge; may become watery after freezing
Add to smoothies, tomato sauce, or pasta dishes
Beans (black, cannellini, chickpeas, or kidney)
Fridge or freezer
Add to smoothies, oatmeal, dips, soups as a thickener, baked good recipes, or spread on sandwiches
Beets, raw or steamed
Fridge or freezer
Smoothies, mashed potatoes, tomato sauce, baked good recipes
Carrots, raw or steamed
Fridge or freezer
Add to smoothies, oatmeal, soups, pancake batter, mashed potatoes, or spread on sandwiches
Cauliflower, raw or steamed
Fridge; may become watery after freezing
Add to mashed potatoes, soups, or tomato sauce
Green Beans, raw or steamed
Fridge or freezer
Add to tomato sauce or soups
Kale
Fridge or freezer
Add to smoothies, soups, dips, or tomato sauce
Parsnips, steamed
Fridge; may become watery after freezing
Add to mashed potatoes, oatmeal, or soups
Peas, raw or steamed
Fridge or freezer
Add to soups or tomato sauce
Peppers (bell)
Fridge; doesn't freeze well
Add to soups, tomato sauce, or spread on sandwiches
Sweet potato
Fridge or freezer
Add to smoothies, oatmeal, soups, pancake batter, mashed potatoes, or spread on sandwiches
Spinach
Fridge or freezer
Add to smoothies, baked good recipes, or pasta dishes
Squash (winter)
Fridge or freezer
Add to smoothies, oatmeal, soups, dips, pancake batter, mashed potatoes, or spread on sandwiches
Turnip
Fridge or freezer
Add to mashed potatoes, tomato sauce, or soups